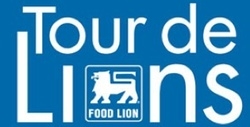 Saturday, August 20
YOGA: Both you and your kids could probably use some downtime. At Past Tense Studio's play date class from 4:30 to 6:30 PM, children ages five and up will practice movement, breathing, and meditation. There will also be activity stations for yoga games, storytelling, and art. Sign up here.
BIKE: The Tour de Lions is a cycling event that takes you through the back roads of Hanover County. Register for a 12-, 30-, 50-, 75-, or 100-mile ride. The tour starts and finishes at the Food Lion in Ashland (135 Junction Dr.). Fundraising for this event is highly encouraged, and there is a minimum donation of $50 for adults and $35 for kids. Any donations should be made out to Children's Miracle Network Hospitals. Click here for more information and to register.
BIKE/RUN: Pacers Running Store in Alexandria (1301 King St.) is hosting a Brick Workout as part of the Tri Clinic Series, a USAT-sanctioned event. Join DC Running Coach founder Mike Hamberger and USAT All-American and elite triathlete Michelle Harburg for a group bike and run starting at 7 AM. The Tri Clinic Series is designed to improve your skills for a triathlon. Click here for more information and to register for the workout.
Sunday, August 21
SEMINAR: In light of some recent incidences on the W&OD trail, Peter Davila of Fairfax County Police will teach you how to protect yourself while out for a run, bike, or ride. Potomac River Running in Reston (11911 Democracy Drive) will host a personal safety seminar from 6:30 to 7:30 PM with Davila, master police officer and lead defensive tactics instructor. For more information and to sign up, click here.
YOGA: Every Sunday, a local yoga studio offers a free class courtesy of Lululemon. This week they're offering a free flow yoga class at Stroga in Adams Morgan at 3:45 PM. Be sure to check each store's event calendar for more information. Click here to find the Lululemon store nearest you.
Wednesday, August 24
YOGA: It's the last month to check out Lululemon's free yoga classes every Wednesday in Dupont Circle. It starts at 6:30 PM and is BYOM (Bring Your Own Mat). Click here for more information.
Thursday, August 25
RUN: The Northern Virginia Running Club hosts a 5K at Bluemont Park (325 North Manchester St., Arlington) to raise money for its nonprofit club. The course is along the WO&D bike trail. Onsite registration opens at 5:30 PM and the race starts at 6:30 PM. There will be prizes for the top two overall male and female. Click here for more information and to register.
GYM: And don't forget to keep track of that rising thermometer. Anytime it hits at least 90 degrees in August, you can head over to your local Washington Sports Club and workout for free! Click here for more information.

Subscribe to Washingtonian
Follow Washingtonian on Twitter
Follow Well+Being on Twitter More >> Health | Top Doctors | Well+Being Blog