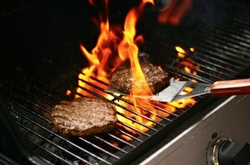 Todd Kliman, food and wine editor:
• Fun piece on The Smithsonian's Food & Think blog—criminals who make foods their accomplice. Love the bit about the guy who stashed $100,000 worth of crack inside a hollowed-out bologna.: Law and Order: More Culinary Crimes.
• Think you're so hot for making sauce squiggles over your fancy terrine molds at your last dinner party? Yeah, well, the great Thomas Keller doesn't think so. Plating, he says, is pretentious in the home.: Prepping Food for the Eyes.
• So Domino's is experimenting with an "artisanal" pizza—made with actual rollers. What's next, a bánh mì at McDonald's?: Meet Domino's Non-Artisan Artisan Pizza.
Ann Limpert, food and wine editor:
• Three words I never thought I'd see in the same sentence: "Bill Clinton" and "vegan." Surely he's sneaking Hunter S. Thompson-style breakfasts in somewhere.: Bill Clinton's Life as a Vegan.
• Is there hypocrisy among the culinary elite? Frank Bruni thinks so, and he has a point: "When [Paula] Deen fries a chicken, many of us balk. When the Manhattan chefs David Chang or Andrew Carmellini do, we grovel for reservations and swoon over the homey exhilaration of it all.": Unsavory Culinary Elitism.
• As Locavorean sacred ground Chez Panisse turns 40, pastry chef and cookbook writer David Lebovitz looks back at his time working there—and his job interview with Alice Waters.: Chez Panisse at Forty.
Anna Spiegel, food and wine intern:
• The Wall Street Journal has a rundown of annoying workplace eating habits. If you're that guy who's been eating covering his tie in plastic while eating "beans-and-rice dishes," then check this out: A Field Guide to Obnoxious Eating.
• The Atlantic takes a slap at Virginia's faux-moonshine, calling it the world's silliest liquor. Clearly they haven't discovered cupcake-flavored vodka.: The World's Silliest Liquor.
• Germaphobes beware: the New York Times talks about being food bacteria and Esquire looks into how to eat raw chicken (hint: don't).: Bending the Rules on Bacteria.
Subscribe to Washingtonian
Follow Washingtonian on Twitter
Follow the Best Bites Bloggers on Twitter
More>> Best Bites Blog | Food & Dining | Restaurant Finder