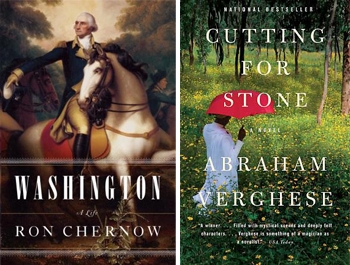 Between budget battles and the coming reelection campaign, President Obama probably doesn't have much time to relax with a good book. But he's got plenty to choose from. This year, representatives of the American Booksellers Association presented Obama, his wife, and their daughters with some 300 titles, including bestsellers and "hidden gems" that the independent booksellers' trade group selected over the past year.
The ABA's donation to the White House library dates to 1929, when Herbert Hoover found himself wandering the White House on his first night in office before his belongings arrived, looking for a book to read. He borrowed one from a White House guard, and when the Washington Post picked up the story the next day, an ABA staffer decided the White House shelves should be stocked. The Hoovers were presented with 500 books that April, and the ABA has made a donation to every President since.
"The idea has been to provide the President and the First Family with a representative sampling of the books Americans are reading," says ABA head Oren Teicher.
Among this year's picks: Ron Chernow's Washington: A Life, about the first President; Abraham Verghese's award-winning novel Cutting for Stone; and the anti–Wall Street Griftopia: Bubble Machines, Vampire Squids, and the Long Con That Is Breaking America by Matt Taibbi.
When Teicher gave Bill Clinton an installment of Walter Mosley's Easy Rawlins detective series, a favorite of Clinton's, he got a thank-you note from the President saying he read the book that same night. In 2002, the group gave George W. Bush everything from Fast Food Nation to The Sisterhood of the Traveling Pants.
The Obamas were frequent customers at 57th Street Books in Chicago's Hyde Park neighborhood. Teicher says Barack Obama told him that one of the frustrations about being President was that he's not able to browse in bookstores as much as he once did.
This article appears in the September 2011 issue of The Washingtonian.