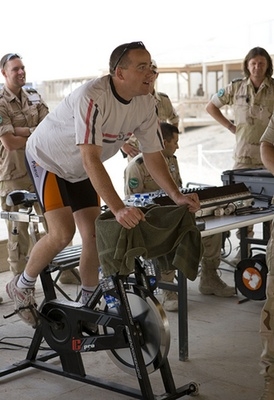 This week's Well+Being workout playlist is for all of you spinning and cycling fanatics out there. We asked Mint DC spinning instructor Karol Urban to put together an hour-long playlist perfect for getting those pedals spinning.
"There's nothing better than good music to get your inspiration flowing and body moving," says Urban, who is also a musician and co-owner of Urban Audio Post.
The following playlist includes a warm-up tune and a couple of cool-down songs to lower the heart rate at the end of a workout. Click here to listen to the playlist on Spotify.
Don't have Spotify? Download it to your smartphone and you'll be able to listen to this playlist wherever you go.
What are some of your favorite songs to listen to during a long bike ride or spinning session? Leave a comment with your suggestions or share your own Spotify workout playlist.
1. "We All Want the Same Thing" by Kevin Michael
2. "Automatic" by Aubrey O'Day
3. "Whip My Hair" by Williow
4. "I Like It" by Enrique Iglesias featuring PitBull
5. "Piece of Me" by Britney Spears
6. "Love at First Sight" by Kylie Minoque
7. "No Hay Igual" by Nelly Furtado
8. "Elevation" by U2
9. "On the Floor Remix (Mixin Marc & Tony Svejda LA to Ibiza Mix)" by Jennifer Lopez
10. "Butterfly" by Crazy Town
11. "Mercy" by Duffy
12. "Shake It Off" by Mariah Carey
13. "The Little Things" by Colbie Caillat

Subscribe to Washingtonian
Follow Washingtonian on Twitter
Follow Well+Being on Twitter

More >> Health | Top Doctors | Well+Being Blog