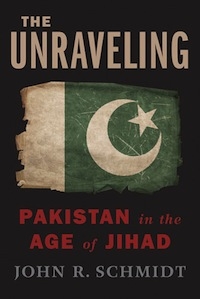 The American military operation that killed Osama bin Laden in May was shocking not only for its outcome but for where it went down—not in the mountains between Afghanistan and Pakistan but in Abbottabad, a leafy, middle-class community that also houses a major Pakistani military academy.
The school's proximity to the terrorist leader's compound raised questions about the Pakistani government's dealings with radical organizations, among them al-Qaeda, the Taliban, and Lashkar-e-Taiba, the group responsible for the 2008 terrorist attacks in Mumbai. In The Unraveling, his uppercut of an extended essay about America's fraying relationship with the Islamic republic, John Schmidt of George Washington University argues convincingly that Pakistan's policy of jihadist appeasement has its root in the country's proxy war with India for regional dominance.
Schmidt, who worked in the US Embassy in Islamabad for years, ornaments his polemic with personal anecdotes and hard-won insights. The book's final chapter, in which he lays out what could happen if jihadists were to take control of Pakistan's nuclear arsenal, will have you riveted.
This article appears in the September 2011 issue of The Washingtonian.
Subscribe to Washingtonian
Follow Washingtonian on Twitter

More>> Capital Comment Blog | News & Politics | Party Photos