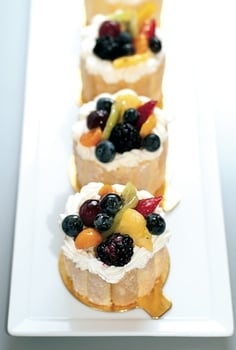 Cornucopia
8102 Norfolk Ave.; 301-652-1625
For beautifully made Italian sandwiches on crusty loaves—we like the fresh mozzarella with roasted peppers, basil, and olive oil—try Cornucopia.
Vace
4705 Miller Ave.; 301-654-6367
Vace is known for crisp-crusted, tangy-sauced pizzas by the slice or pie; the Italian sub with thin-sliced salami, mortadella, ham, and mozzarella is also a winner.
Taylor Gourmet
7280 Woodmont Ave.; 301-951-9001
Taylor Gourmet makes a good sub, too. Try the Italian Hoagie with aged provolone, prosciutto, salami, and capicola. And arancini, or risotto balls, are expertly fried.
Don Pollo
7007 Wisconsin Ave.; 301-652-0001
Don Pollo is the place for juicy Peruvian-style rotisserie birds with black beans and rice.
Saveur India
6831 Wisconsin Ave.; 301-951-0062
Indian expats go to Saveur India for dishes that taste of home. We like the potato-filled samosas and the cauliflower-potato curry.
Tout de Sweet
7831 Woodmont Ave.; 301-951-0474
Sample the pastel-hued macarons at the spare, stylish French cafe Tout de Sweet. We recommend the vanilla, coffee, and chocolate flavors; croissants are also top notch.
Dolcezza
7111 Bethesda La.; 301-215-9226
For those whose tastes run more to frozen treats, Dolcezza offers dense, creamy Argentinean gelato in flavors such as brown butter and blackberries and cream.
Cacao
7129 Bethesda La.; 301-215-6945
Chocolate lovers will want to check out Cacao for single-origin bars—made with cocoa beans from one country—and mendiants, nut-studded chocolate bars.
Georgetown Cupcake
4834 Bethesda Ave.; 301-907-8900
Georgetown Cupcake is home to arguably the deepest, darkest chocolate cupcake around, the Chocolate Ganache.
Fancy Cakes by Leslie
939 Elm St.; 301-652-9390
If you like to decorate your own cupcakes, hit the "decor bar" at Fancy Cakes by Leslie, where you can choose from six kinds of sprinkles and assorted non-edible decorations to dress up your cupcakes.

This article appears in the September 2011 issue of The Washingtonian.