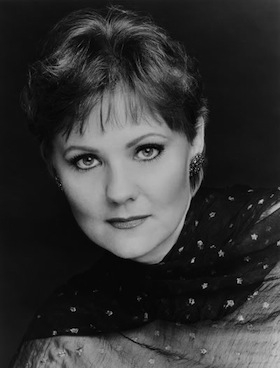 As previewed last week, Washington Concert Opera kicked off the opera season on Friday night with an outstanding concert performance of Verdi's Attila. Like most early Verdi operas, the work has its dramatic and musical longueurs, but Attila already shows the composer's finely honed sense of dramatic tension, with two particularly memorable entrances, for Attila and then for Odabella, in the first act. Even at this point in his career, Verdi was also striving to make Italian opera conventions, like always having a slow-paced aria ( cavatina) followed by a fast-paced one ( cabaletta), fit more convincingly into his opera's dramatic structure. Certainly, when sung as well as it was in this performance, Attila can be an excellent night at the opera.
Bass-baritone John Relyea had the necessary snarl and vocal brawn for the title role, menacing but also showing greater range and variety in the dream scene, for example. Top billing, however, goes to soprano Brenda Harris, who gave a gutsy, sharp-edged, virtuosic rendition of Odabella, one of Verdi's more demanding roles. The composer wrote for a dramatic soprano with sizzling voltage on the top, brute strength, and agility in fast passages, all of which Harris had in spades as well as a regal stage presence. She also had the other side of the package, giving Odabella's gloomy slow aria in Act I a tender quality, with intense control over a silky pianissimo tone and overall excellent intonation. This is a voice to be reckoned with, although her recent and upcoming stage appearances, somewhat surprisingly, are mostly with smaller American companies.
The other singers rounded out a fine cast, led by local baritone Jason Stearns as the Roman general Ezio. Stearns had impressive horsepower on some blistering high notes but was a little sloppy in the details, and his Italian left something to be desired. Tenor Arthur Espiritu, in his WCO debut, made a very pretty sound as the Aquileian knight Foresto, especially in his slow arias, but he was at the edge of control on the highest notes and tended just a few scintillas flat too often. Tenor James Flora, also in his WCO debut, was a stout Uldino, and young bass Solomon Howard was strong in the small role of Leone, otherwise known as Pope Leo the Great, whose demonstration of God's power turns Attila back from Rome. Conductor Antony Walker continues to show great subtlety and confidence at the podium, giving the gut-busting full-cast ensembles a tight clarity. The orchestra and chorus, both seemingly smaller than in some recent performances, made the best of the rather pedestrian score that shows in many places how far Verdi progressed as a composer later in his career.
The next performance by Washington Concert Opera will be Camille Saint-Saën's Samson et Dalila with Brandon Jovanovich, Michelle DeYoung and Greer Grimsley on Sunday, May 13 at 6 PM in the Lisner Auditorium.
Subscribe to Washingtonian
Follow Washingtonian on Twitter

Follow the After Hours Blog on Twitter

More>> After Hours Blog | Arts & Events | Happy Hour Finder | Calendar of Events