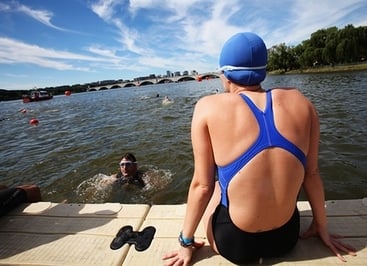 Washington boasts two national triathlon competitions and one of the highest concentrations of triathletes, but there's just one problem.
While running and biking trails around Washington are aplenty, other than pool facilities, triathletes struggle to find a decent, natural open water spot to train for the swim portion of triathlons.
"Open water options around here suck," says Emily Long, a local triathlete who just completed her first Iron Man competition. Even the swim portion of the Nation's Triathlon last Sunday was canceled due to hazardous conditions in the Potomac River.
But triathletes shouldn't despair. Here are four spots for open water swimming recommended Stephen Carlson, president of the DC Tri Club. Note that some of these swimming spots are closed after Labor Day or restricted to swim clinics.

1. National Harbor
137 National Plaza, National Harbor
"This is probably the best choice for people in the DC metro area," Carlson says. But the venue is limited to events run by WaveOne Swimming, which hosts Thursday night happy-hour swims in addition to clinics on weekends.

2. Sandy Point
1100 East College Parkway, Annapolis
"This has been a popular open water swimming location for several years," Carlson says. There is a public beach that is a few hundred meters long, Carlson says, but watch for the jelly fish.

3. Gunston Manor
5925 Kentia Trail, Lorton
A number of swim clinics are held throughout the year at Pohick Bay at Gunston Manor in Lorton. "The only downside of swimming here that I know of is the weeds in the grass," Carlson says.

4. Lake Anna
6800 Lawyers Road, Spotsvylvania
The DC Tri Club has held several swim clinics here and there are several races held at the lake every year. Carlson says the surrounding area also has roads for biking if you want to get in a second workout after the swim.
Subscribe to Washingtonian
Follow Washingtonian on Twitter
More >> Health | Top Doctors | Well+Being Blog