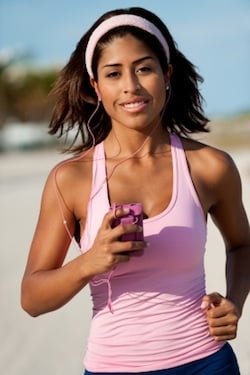 We've got another workout playlist for you courtesy of Grant Hill, fitness trainer and founder of My Bootcamp. Hill chose 13 songs for a 60-minute running playlist to get you through those hills, sprints, and cool down.
"You obviously have to love what you are listening to, or you'll find yourself distracted, fumbling with your iPhone instead of focusing on your run," says Hill, who has produced music for the Real World, the Hills, and Keeping Up with the Kardashians.
When it comes to choosing songs for a perfect running playlist, Hill says to go with tunes that are long and have a steady, driving beat. "If you can sync up your pace precisely with the beat, you'll feel a huge endorphin rush."
Listen to the running playlist on Spotify here. Don't have the music-sharing program? Download it and listen to the playlist on your smartphone wherever you go.
60-Minute Running Playlist
1. "Dance Till Dawn" by Heartsrevolution
2. "Moar Ghosts 'n' Stuff" by Deadmau5
3. "Phantom pt. II" by Justice
4. "The Longest Road (Deadmau5 Remix)" by Morgan Page
5. "Sweet Disposition" by Temper Trap
6. "Hurricane Drunk" by Florence + The Machine
7. "Power" by Kanye West
8. "More" by Usher
9. "Moves Like Jagger" by Maroon 5 and Christina Aguilera
10. "Bright Lights Bigger City" by Cee Lo Green
11. "Awake My Soul" by Mumford & Sons
12. "C'Mon" by Tiësta vs. Diplo
13. "Transatlanticism" by Death Cab for Cutie
Don't miss our other spinning and workout playlists.
Are you a fitness expert with a great workout playlist? E-mail mromero@washingtonian.com if you're interested.
Subscribe to Washingtonian
Follow Washingtonian on Twitter
More >> Health | Top Doctors | Well+Being Blog