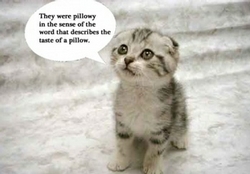 Anna Spiegel, assistant food and wine editor:
• Sam Sifton's departure as the New York Times restaurant critic set off a flurry of media reactions. The Atlantic has a contemplative piece on the role of the modern food critic: The End of the Career Food Critic.
• But I may prefer Eater New York's send-off, curated by Scandinavian design firm Kinderbrod. And it doesn't matter if you've never been to the zero-star Imperial No. 9. You must read the illustrated version of Sifton's review.: The Worst Lines of Sifton's Imperial No. 9 Review, With Cats.
• If you think the food at Minibar is out-there, check out Fast Company's report on printer-made edibles: Ramen by HP? The Wild Possibilities of Printing Food.
• Cold weather is (eventually) coming, which means goodbye margaritas, it's Manhattan time: I'll Take Manhattans, With a Twist.
• Because it's almost the end of the week, and . . .: Because Yelp Needs Cormac McCarthy.
Todd Kliman, food and wine editor:
• According to Foreign Policy, the food fetishists of the First World, with their locally produced milk and organic, non-genetically modified fruits and veggies—uh, that would be you, dear reader—are a bane to the world's poor.: Got Cheap Milk?.
• California, New York, Washington state and Oregon are the biggest producers of wine in the country. But the biggest per-capita consumer? None other than the state that's not a state: DC. My my my: Chocolate City is turning into Cabernet City.: The United States of Winos.
• A look at Chipotle founder Steve Ells, as he prepares to roll-out his hush-hush ShopHouse Southeast Asian Kitchen in Dupont Circle (it opens today)—the first of what surely will be a slew of chains across the country. The old fast-food model of bad-for-you bland stuff in bad-for-you styrofoam is giving way to the new fast-food model: good-for-you spicy stuff in biodegradable bowls.: Chipotle's Growth Machine.
Ann Limpert, food and wine editor:
• As someone who ate way too many bags of Funyuns from high school vending machines, I am not one to pass judgement. But lollipop rings? Really? Still?: Top 5 Snacks Most Commonly Enjoyed by 9th Graders.
• Anthony Bourdain is getting his own publishing imprint, and will release three to five books a year through Ecco. Bourdain says in a press release that "we're looking at an initial list composed of chefs, enthusiasts, fighters, musicians, and dead essayists.": Anthony Bourdain Gets His Own Line of Books With Ecco.
• Fascinating. Vindicating. I always fall for the flowers.: How Whole Foods Primes You to Shop.
• Longtime Playboy Mansion chef William S. Bloxsom-Carter reveals Hef's pedestrian eating habits—not surprisingly, he's a night owl, having breakfast at 10:30 or 11:30, lunch at 5:30, and dinner at 10:30. He likes comfort foodie things, like "two piles of mashed potatoes with a poached egg placed in each one." And the bunnies? "We try to make them healthy. It doesn't always work out. They want the cheesecake with strawberries on top.": Hugh Hefner Dines Late, Likes Chops, Says Chef.
Sophie Gilbert, assistant editor:
• DC's first lady of dining, Michelle Obama, regularly frequents Equinox, The Source, Good Stuff Eatery, and other local restaurants, but she showed up today at an unusual spot: a Hyattsville Olive Garden. Mrs Obama is teaming up with Darden Restaurants, owner of the "Italian" chain, Red Lobster, and others to help them unveil their new, healthier kids' menu.: Mrs. Obama Heads to Olive Garden.
• This is rather brilliant: Jay Rayner unloads on whether chef's egos have finally surpassed the point of ridiculousness at the G9 chef summit.: Chefs' Manifesto: Reality Check, Please.
• I am absolutely guilty of scraping the mold off certain dubious dairy products and then continuing to eat them anyway. But not as bad as my (English) stepmom, whose fridge is a veritable breeding ground for penicillin.: Best Before, Still Fine After.
• In more Sam Sifton news, HuffPo has 10 of his finest moments.: Sam Sifton's Restaurant Reviews: The Ten Most Scathing and Glowing Pieces from the Past Two Years.

Subscribe to Washingtonian
Follow Washingtonian on Twitter
Follow the Best Bites Bloggers on Twitter at twitter.com/bestbitesblog
More>> Best Bites Blog | Food & Dining | Restaurant Finder