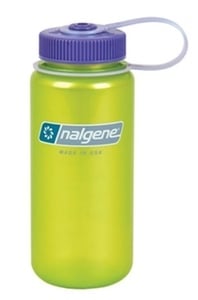 In an effort to promote hydration and conservation, Nalgene is giving away 5,000 of its multi-use bottles at Union Station tomorrow from 10 AM to 4 PM. Nalgene will give away the wide-mouth bottles in purple, green, frost, red, and blue, new translucent colors that launched on the site this week.
While not mandatory, people can exchange their plastic, one-use water bottles for a free, 16-ounce and translucent Nalgene. The translucent bottles typically cost $9.
Nalgene's products are BPA-free. The safety of Bisphenol A, a chemical that has been used in the manufacturing of plastic products, has been questioned after recent studies and reports raised concerns about its exposure to infants and children. For more information on Nalgene's use of materials in its bottles, click here.
The bottle drop will take place near the exit of First Street and Massachusetts Avenue, Northeast, while supplies last.