Carlos Rogers is now dropping potential interceptions in San Francisco. Photograph by Brian Murphy
With the Redskins scheduled to appear on Monday Night Football, Sunday was the perfect opportunity to spend seven hours watching NFL RedZone and catching up with some old friends. So that's precisely what I did. With beer(s) in hand I turned a critical eye to the ex-Redskins scattered across the league.

Carlos Rogers, San Francisco 49ers
During his six years in Washington, Rogers was known less for his laudable coverage ability than he was for his laughable inability to catch the ball. Now that he's somebody else's problem, we can sit back and enjoy plays like this from Week Two's loss to Dallas.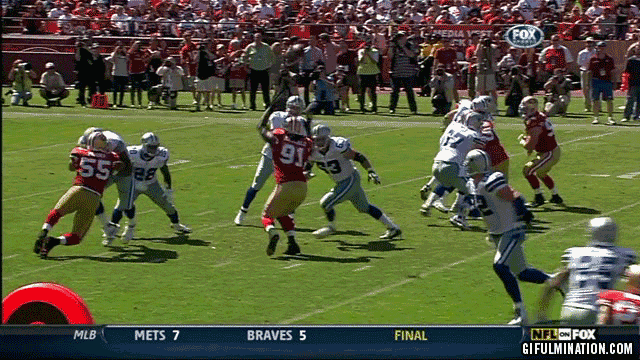 A terrible pass from Tony Romo and a potential interception off of Carlos's head? This is one of those things you should remember when Thanksgiving rolls around.
Of course it's not all bad for Rogers. When presented with another opportunity in yesterday's game he came through with an interception that helped to seal San Francisco's win over Cincinnati. Weird, but true.

Clinton Portis, free agent
Since he just sold his house in McLean, he probably watched the games over at Dan Snyder's house.
Donovan McNabb, Minnesota Vikings
The Vikings quarterback called Sunday's home game against the Lions a "must win." They lost. And not only that, they did so by blowing another double-digit halftime lead. It wasn't McNabb's worst start (that honor goes to 39-yard effort in Week 1), but going 0-6 on third down in the second half sealed Minnesota's fate. Three weeks in and McNabb's numbers are quite a bit worse than what we saw from him a year ago. As of Sunday, he ranks 26th in the league in quarterback rating, and 30th in yards per game. It's only a matter of time before his second coach in as many years hands McNabb the clipboard.
Albert Haynesworth, New England Patriots
Large Albert did not have the decency to suit up this week. Everyone's favorite export made an appearance on the inactive list, a place he frequented regularly in Washington. The official reason given was an injured back that kept Haynesworth out of practice all week, but the writing was on the wall after a characteristic lackluster performance in Week Two.
The Boston Globe's Greg Bedard provided a breakdown of his day. Here are a few of the choice excerpts.
One of the more head-scratching things about the Patriots' defense in going over the television copy of the Patriots' win over the Chargers was the lack of an impact by DT Albert Haynesworth.
It is indeed head-scratching if you never paid much attention to Haynesworth's time in Washington.
Against the Chargers, Haynesworth didn't have one impactful play. He didn't even show up on the stat sheet.
But what about the things that don't show up in the stat sheet? For example, he never once had to be carted off the field due to fatigue. Surely that's worth something.
Haynesworth's two final plays were his poorest. He was knocked to the ground for the seventh and eighth time in the game and didn't make much of an attempt to get up.
Oh man, that last one evokes more memories than the incoherent ramblings of Sam Huff himself. All that's missing is a few negative words about Jim Zorn and it's like being transported back to 2009.
Now that we're all caught up we can take pleasure in knowing that the Redskins are—for the most part—heading in the right direction in terms of personnel. Gone are the overpaid defensive tackle and the over-the-hill quarterback. Now we can focus on what really matters, a Monday night date with the Dallas Cowboys with first place on the line. I can barely believe we've come this far.