Washington writer Wade Davis's treatment of British attempts to reach the summit of Mount Everest in the 1920s—a harrowing series of expeditions organized by the Royal Geographical Society that ended in the disappearance of mountaineers George Mallory and Andrew Irvine—is, as it should be, enormous. Thanks to Davis's lapidary prose, Into the Silence is also propulsive, a nearly 700-page book about the strivings of big-hearted men to conquer the world's biggest mountain.
Davis, National Geographic explorer-in-residence, isn't the first author to tackle the historic ascents, though a couple of things distinguish his account from others.
The first is its emphasis on World War I, which ended two years before the first expedition, in seasoning the adventure with redemptive meaning for the climbers and the battle-bruised British Empire.
The second is the book's epilogue, a swift rendering of the recent discovery of Mallory's frozen body on Everest, a finding that brought a degree of closure to what Davis trumpets as "the greatest mystery in the history of mountaineering."
This article appears in the October 2011 issue of The Washingtonian.
Subscribe to Washingtonian
Follow Washingtonian on Twitter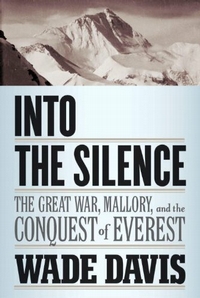 Author:
Wade Davis
Publisher:
Knopf
Price:
$32.50