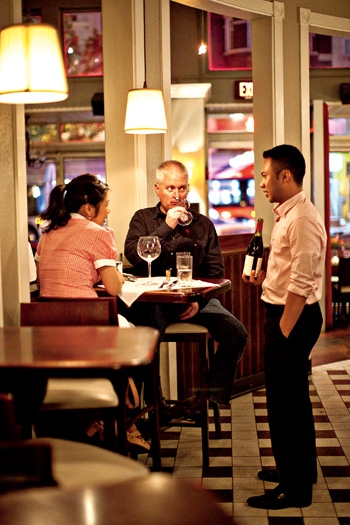 It seems like much of Washington tucks into bed before midnight, but that's when a night kicks into gear for many of the area's chefs, line cooks, and bartenders. What are their top spots for fueling up and relaxing after a long day?
Chefs Omar Rodriguez of Jaleo Crystal City and Ruben Garcia of parent company Think Food Group hit the Passenger in downtown DC (1021 Seventh St., NW; 202-393-0220) for such late-night eats as a kimchee-topped hot dog or hummus with fava beans. Though Tom Brown's amusing cocktail names—such as the Cougar Tail, a mix of Calvados, allspice liqueur, and lime juice—may entice some, this duo sticks to Manhattans, Sazeracs, or beer in a can, preferably Dale's Pale Ale, Porkslap, or even Pabst Blue Ribbon.
Passenger mixologist Derek Brown occasionally goes for some Old World charm at Georgetown's Bistro Français (3124 M St., NW; 202-338-3830), which serves until 3 am weekdays, 4 am weekends. "After a 12-hour shift," he says, "what would you rather eat—a trio of foie gras textures or roast chicken and fries?"
Ed Witt of 701 in DC's Penn Quarter likes the bars at the nearby restaurants Proof (775 G St., NW; 202-737-7663) and the Source (575 Pennsylvania Ave., NW; 202-637-6100); he's often joined by chef pals including Graffiato's Mike Isabella, Bibiana's Nick Stefanelli, Proof's Haidar Karoum, and the Source's Scott Drewno.
On weekends, Corduroy's Tom Power meets his wife at Cashion's Eat Place (1819 Columbia Rd., NW; 202-797-1819) for a gourmet take on a Philly cheesesteak or sweet-and-sour chicken wings—both on a menu available only after midnight Friday and Saturday.
When he craves a feast, Antonio Burrell of El Centro DF and Masa 14 in Logan Circle bypasses his usual after-work stops—Harry's Restaurant in downtown DC (436 11th St., NW; 202-624-0053) and the Pug in the Atlas District (1234 H St., NE; 202-388-8554)—and heads to Annandale for Korean barbecue at Yechon (4121 Hummer Rd.; 703-914-4646) or Honey Pig (7220-C Columbia Pike; 703-256-5229), both open 24 hours.
This article appears in the October 2011 issue of The Washingtonian.