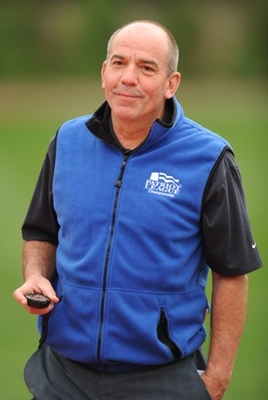 As Matthew Centrowitz Jr. surged down the final stretch of the 1,500-meter race at the IAAF World Championships in Athletics in Daegu, South Korea, his father, Matthew Centrowitz Sr., American University's head coach of cross country and track, watched the final moments unfold on television in his apartment.
It was 7 AM and Centrowitz Sr., a two-time Olympian and former national-record holder, was surrounded by friends from his building. His son, a former star at Broadneck High School in Annapolis, was about to become the first American-born runner to medal at the event since 1987.
The 21-year-old Centrowitz, who, as his father did in the 1970s, runs for the University of Oregon, kicked off his breakthrough year with an NCAA title in the 1,500-meter race. Meanwhile, Centrowitz Sr. and Jr. (the father goes by Matt; the son goes by Matthew) are one of only two American father-son duos to clock sub-four-minute miles.
What is perhaps more remarkable, though, is that, through it all, Matt Centrowitz has stayed largely on the periphery of his son's success. Like his sister, Lauren, who ran for Stanford University, Matthew found his own way in the sport without any sort of parental push. (Centrowitz's third daughter, Marissa, chose not to pursue distance running.)
If anyone truly influenced Lauren's and Matthew's decision to pursue distance running, Matt Centrowitz said, it might have been the coach's athletes at American University. "These All-Americans on the wall," he says, glancing upward during an interview at his AU office, "they know them inside and out."
Centrowitz talked to The Washingtonian about his reaction to his son's triumph at the world championships, plus his role—and non-role—in making it happen.
Matthew remarked in one interview that, growing up, he mostly heard "runner stories" as opposed to bedtime stories. What did you share with your children?
Growing up, all my friends were track runners, so that's kind of what they are talking about. It's their interpretation. It's not that I sat down and said, "Once upon a time I was runner, before you were born." It's whatever they caught.
How involved were you in Matthew's high school training?
Maybe I would suggest something, but I wasn't that involved. He had a high school coach. He would say to me, "I did a workout; it felt easy." I would say to him, "Well, why don't you run another mile or warm up a little extra." If you want to get good, you just run.
When Matthew went to Oregon, were you more concerned with his development as a runner or as a person?
Obviously, the development as a person, because (laughs a bit) it's going to affect his running. You just can't separate the two. If he develops a certain way off the track, he is going to develop a certain way on the track.
This was a pretty big breakthrough year . . .
I wouldn't say a year. I would say 90 days of pretty off-the-chart [performances]. Going from conference champion to third in the world is a pretty big leap.
How were you reacting as one result trumped the next?
I'm thousands of miles away and I'm hearing he is doing well, but you to need race, you need the breaks, you need certain things. . . . Did I know something? No, but I knew he was healthy and that he has good talent. Whether it was this year or next year I figured something was going to happen.
Do you see what Matthew did as part of a resurgence in American distance running?
I'm not in the system that much and I don't really study things that much. I'm not obsessed with it in that way. I can't tell you too much stuff about that; I can't name you a bunch of names. That's his world. I don't have any need to be in there; he can handle it. That's what his coaches do. My interest is a little bigger picture: How he's doing? If he's ready, everything will be fine.