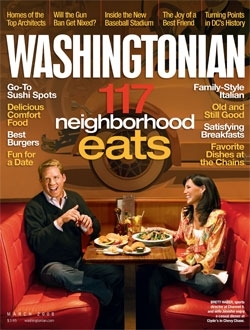 The Washingtonian is proud to announce that two veteran Emmy Award-winning Washington journalists, Brett Haber and Carol Joynt, will be joining the magazine as editors-at-large.
Carol Joynt—whose three-decade journalism career began with Time magazine and The CBS Evening News with Walter Cronkite and who later worked as a producer with Charlie Rose, Ted Koppel, and Larry King—will cover Washington personalities and culture both online and in the magazine.
Joynt, who took over the Georgetown restaurant Nathans on the death of her husband in 1997 and ran it for 13 years, became well known in Washington for her Nathans interview series, the Q&A Cafe, in which interviewed local newsmakers such as Valerie Plame Wilson, Vernon Jordan, Tim Russert, Ted Sorenson, Mark Warner, and General Bernard E. Trainor, among many others. Joynt won an Emmy for her work on Charlie Rose's interview with Charles Manson at San Quentin Prison. This year, she published a memoir, Innocent Spouse, chronicling her years running Nathans and untangling the tax-fraud problems her husband left behind. The Washingtonian excerpted the book in May.
Longtime WUSA sportscaster Brett Haber—who won five consecutive local Emmys for outstanding sports anchor from 2006 through 2010 and three for writing—will provide sports commentary and host regular chats on Washingtonian.com as well as report for the magazine. This month, Haber steps down as WUSA sports anchor; he'll continue to do extensive work in television, including his new position as a host and play-by-play commentator for Tennis Channel.
Haber's TV career has included stints as an anchor at ESPN's legendary show SportsCenter, sports director at WCBS-TV in New York, and three years as sports director at Washington's Fox affiliate, WTTG, where he received the National Edward R. Murrow Award for sports reporting for his undercover investigation on sports-autograph fraud. Haber's humor was on display every Thursday on WUSA during his signature highlights segment, "The Good, the Bad & the Ugly," featuring the most outstanding, outrageous, and sometimes implausible video clips of the week accompanied by his commentary.