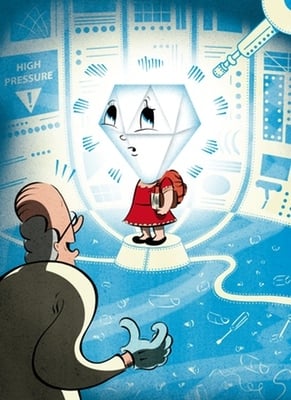 Looking back on his daughter's childhood, a DC lawyer named Jack (not his real name) says a constant theme was "achieve, achieve, achieve." The pressure on her to excel in school was so intense that he sometimes felt as if he were raising a diamond, not a child.
In elementary school, all the parents seemed to tutor their kids and even do homework for them. "You know there's no way that little kid built that model of the Great Wall of China with sugar cubes," Jack says.
In high school, his daughter—who graduated from Sidwell Friends two years ago—had sports practices every day in the spring followed by five or six hours of homework. A bright girl who would have breezed through some other schools, she struggled to compete with all the other overachievers in her class. She seemed always tired and often in tears. By the time she was a junior, her hair began falling out.
In many ways, Jack's daughter is a success story—she got into a "good" college and brought home straight A's her first year there. Her college workload was lighter than what she'd faced at Sidwell. And she stays close with her high-school friends. "When you survive a traumatic experience with someone, you have a bond," Jack says. "It's like being in a war."
More Private Schools:
But he worries about the price his family paid for his daughter's academic success—a concern that seems to be spreading among parents who watch their kids sacrifice sleep and family time to plow through homework and juggle extracurriculars, all in the hope that they'll land a spot at a top college.
Jack's daughter's story may sound extreme. But parents at elite schools say that because of a trickle-down effect from ever more competitive college admissions—and a fear of what it might mean to attend a second- or third-tier school—tales like hers have become far more common.
Psychologists in Washington say that over the last ten years they've seen more kids with high anxiety. William Stixrud, a neuropsychologist who has worked with children in Silver Spring for 27 years, says antidepressants are widespread in top private schools. He recalls one first-grader bursting into tears and saying: "I can't read very good and will never be able to get into an Ivy League college."
Teens in particular report feeling under pressure, as though "every minute of the day their whole future is on the line," says Wendy Mogel, a clinical psychologist and author of The Blessing of a B Minus.
A National Cathedral School graduate who's now a freshman at an Ivy League college describes it this way: "If I took any time to relax, I would feel like I was slacking and I would worry it would hurt me later on. I felt like everything I did was going to end up on paper and someone was going to review it. We were all terrified of not being successful."
In a region with plenty of successful workaholics, having a child who studies five hours a night can be seen as a badge of honor. Many parents seem to want their children to reach or exceed their own levels of success—a high bar in the nation's best-educated area.
Ned Johnson, president of the Bethesda-based tutoring company PrepMatters, says some kids tell him that their parents won't pay for college if they don't get into an Ivy: "The message is 'I'm going to make you successful no matter what. Happy or not, you're going to be successful.' "
Next: It's not just "tiger mothers" who push their kids

One local mother hires tutors twice a week to help her daughter maintain her straight-A average. The mother just added a writing tutor—all because she's determined her daughter will get into a certain Ivy League college. She worries that her relationship with her daughter is suffering and that the girl is burning out, but she doesn't feel she can back off.
"I need to know my kid is fully prepared," she says. "Where you go to college follows you everywhere. I live where the prestige of having a kid go to a really good college is important. It's a reflection of who I am."
Meanwhile, it's gotten harder to get into the colleges Mom and Dad attended. The percentage of applicants admitted to top schools is shrinking because more kids are applying. And those schools are under pressure not to automatically admit so many well-off kids from private high schools. Graduating from St. Albans or Sidwell no longer is a guarantee of an Ivy League education.
Bobby Asher, dean of students at Georgetown Day School, says he tries to reassure students by telling them he lives in a fine neighborhood in Chevy Chase "and there's not an Ivy Leaguer on the block."
It's not just "tiger mothers" who push their kids. Some parents who want to ease the burden on their children say they feel caught in an academic arms race.
One father with a daughter at St. Patrick's Episcopal Day School in DC bristles at sending his sixth-grader to an SSAT prep class on Sundays. But he knows she needs excellent scores to get into a top high school. "You feel like you have to do it," he says. "I think this is overkill, but do I really want to use my daughter as an object lesson in a revolt?"
"People feel that there's so little room for error when you are 'on transcript.' "

A mother with two kids at a DC private school initially decided against outside academic help such as Kumon, an after-school math and reading program, in the primary grades. She was thinking of her own childhood, in which she played every day: "If you want to give more play time to your children, you can't be grinding them with extra workbooks and Kumon after school. An eight-hour school day and homework was enough."
But she says her daughter paid a price because her math skills didn't measure up. The mother blames other parents for raising the bar. "You place your kids at risk of being behind their peers," she says, if you don't drill them in early elementary school. She has now hired a tutor so her daughter can catch up.
The same feeling helps explain why parents spend hours a day helping kids with their homework—sometimes doing assignments for them. One mother, who has a child who graduated from National Cathedral School and another at Sidwell, recalls being at a middle-school potluck when a fellow parent complained that the teacher had just given a bad grade on an essay he wrote for his child. The man cited his Ivy League credentials and questioned the teacher's competence.
The mother noticed a few heads turn. "But everyone had a poker face on," she says. "We wondered how many parents were double-checking all of their kids' homework and writing their essays. And we wondered if we should be doing that, too."
Another mother whose children have attended four top private schools recalls that her daughter created a poster by herself for a project in fourth grade while the daughter of a filmmaker turned in a polished video on brain development. "We have decided that a C you earn yourself is much more important than an A you earn with lots of help," she says. But she worries that her approach could hurt her kids when they apply to college: "They'll be up against kids whose grades have been propped up by parents and tutors, so our kids will look less impressive than they are."
Next: Raising the bar on academic goals for students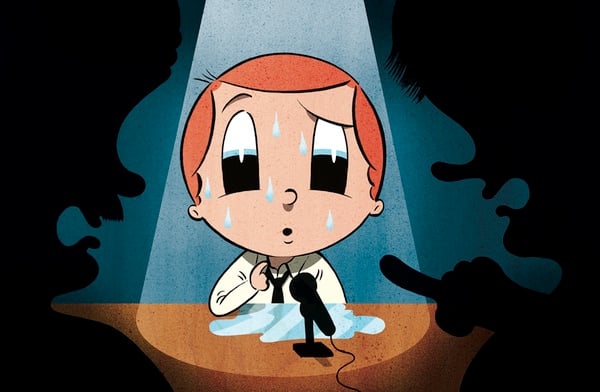 Tony Bullock, a lobbyist with Ogilvy Government Relations who graduated from Yale, says his 13-year-old, who attends St. Albans, spends about four hours a night on homework, far more than Bullock did as a child.
He and his wife aren't shooting for "rock-star status" academically—they're aiming for A's and B's with the hope that their son will have his choice of colleges. The Bullocks have hired a math tutor and work with their son on the fundamentals—organizing the workload, note-taking, preparing for tests, and writing. Bullock says the schools "assume the kids know all this, but they really don't." His son sleeps about seven hours a night. "Fretting over schoolwork has become a huge intrusion on our life as a family," says Bullock.
Schools are requiring children to reach academic goals at increasingly younger ages: Pre-K is functioning as kindergarten, and traditional middle-school demands are drifting down to elementary-age kids, says Martha Bridge Denckla, director of Developmental Cognitive Neurology at the Kennedy Krieger Institute in Baltimore and a professor of neurology at Johns Hopkins. But most kids' brains aren't developed enough to handle the demands. Says Denckla: "The school, the society, and the parents are trying to get the child to function at too high a level."
Denckla has seen a ballooning in diagnoses of attention deficit hyperactivity disorder and learning disabilities in success-oriented cities like Washington. She says these diagnoses wouldn't be made in parts of the country where academic demands are more age-appropriate.
Denckla sees kids who have nothing wrong with them but are brought to her office because they can't keep up with the breakneck pace of their schools. Many are very smart—they're just not ready for college-level academics.
But teachers say high-octane parents press them to keep raising the bar.
Cornelia Atkins, a third-grade teacher who has taught at Beauvoir—the National Cathedral elementary school—for 27 years, says some parents push for more homework, especially higher-level math, because they believe it will give their kids a leg up.
"We have really held the line of what is an age-appropriate amount of homework," says Atkins, who assigns 30 minutes a night plus silent reading. "More isn't always better. The brain needs time to muck around and process life and not be overly programmed in order to be creative."
At top schools, it's no secret that even the smartest kids have tutors. "The only way it can be explained is that they're being asked to perform skills beyond their cognitive capacity," says Siobhan O'Neil Hannes, an adolescent and adult psychologist in Chevy Chase. Some schools discourage using tutors, telling students to seek help from teachers. But teachers tend to have only brief windows of time during the day and can't meet the demand.
Teachers who moonlight as tutors—either making house calls or doing virtual tutoring on Skype—make $60 to $100 an hour, and some tutors at private firms cost more than $200 an hour.
"The families we work with know the critical document is the transcript," says Nina Marks, who was a college counselor at National Cathedral School and now owns Marks Education, a tutoring and educational-counseling firm. "People feel increasingly that there's so little room for error when you're 'on transcript.' A decade or more ago, if you had a bad semester or year, there was some understanding, but now kids and parents feel that so much rides on doing the best they can every moment. Every test, every exam counts."
Tim Emerson, director of the upper school at Maret for almost two decades, agrees: "There's less tolerance from parents of a range of grades. Parents are feeling the most important thing is the end, and the simplest reduction of that is college. That looming aspect of college is what is driving everything."
Next: What happens when parents start doing their kids' homework?

Schools have no idea how much homework is done by parents, says Peter Sturtevant, director of the School Counseling Group, an educational consulting firm: "There is a disconnect between what the schools are assigning and who is doing the homework. Parents are writing some good essays and getting B's on them."
Homework is productive only to a point, says Harris Cooper, chairman of the department of psychology and neuroscience at Duke University and author of The Battle Over Homework. Cooper considers ten minutes a night per grade to be a good guide.
Some schools have fielded so many complaints about homework overload that they've conducted surveys on the problem. A few schools—such as National Cathedral and Bethesda's public Walt Whitman High School—have asked teachers to cut back.
"Parents turn into something between taskmasters and tutors," Denckla says. "They are having to cajole, push, prod, and help with getting this work done. The schools have no idea what pain and suffering is going on around the dining-room table."
What can parents expect for all their hard work—coaching and revising, building science-fair displays and writing book reports, from first through 12th grade? In some cases, four more years of helping with homework.
Many kids with "snowplow parents" remain on an electronic tether through college, says Barbara Hofer, a psychology professor at Middlebury College and coauthor of The iConnected Parent: Staying Close to Your Kids in College (and Beyond) While Letting Them Grow Up. Hofer's research found that one in five students sent college papers home for parents to edit.
Kids who have received lots of help from parents and tutors can struggle later on. That's because the brain prunes synaptic connections that aren't being frequently used, says psychologist Siobhan O'Neil Hannes. "Dependence and reliance on others will be hard-wired, while initiation and problem-solving connections will be pruned."
Some kids who are driven hard and propped up too much wash out of college. Britt Rathbone, a clinical social worker in Bethesda, gets calls every January to counsel students after a failed first semester.
"If you pave the road too smoothly, you don't develop shock absorbers," Rathbone says. "They are lost, confused, and unsure of where to go. They had it mapped out—kindergarten, first through 12th, college and graduate school. The conveyor belt is clear. So if you've dropped off the conveyor belt, there is no road map."
But even those who do well in college and grad school aren't necessarily prepared for the real world. Studies of valedictorians and salutatorians indicate that they achieve only an average level of success later on, says neuropsychologist William Stixrud: "There's tons of research that shows it makes very little difference where you went to college in terms of career success, life success, income, and life satisfaction. It makes much more difference who you are. You need to focus on developing yourself, academic skills, resilience, and a good sense of values and not be so preoccupied with competition and the perception that others are out to get ahead of you."
Madeline Levine, a clinical psychologist and author of The Price of Privilege, says people need intrinsic motivation to succeed in the world, but many kids today are focused on extrinsic rewards such as grades. Kids "who are working 24/7 don't have time to play and to learn to fail, which teaches resilience," she says. "Normal child development has been grossly interfered with, and we are seeing high levels of serious emotional problems and just plain unhappiness."
Levine tells parents to think about their own childhoods: "What were the experiences that mattered? They are never about studying late at night. They are about a mentor or a parent who believed in them."
Parents also need to reflect on the attributes of a truly accomplished life. "We need to define success so we are not just metric-based," Levine says. "It's about having relationships, doing things we want to do."
And it can help to remember that many successful people are alumni of colleges that don't make the U.S. News top 25.
"We are saying the goal for our children is to be financially secure, to go to the right high school and the right college and get the right first job," Jack, the DC father, says. "Perhaps we should be saying, 'Why don't you follow your heart?' "
This article appears in the October 2011 issue of The Washingtonian.