The 1961 Redskins were the last segregated NFL team. Illustration courtesy of David Price/RedskinsCardMuseum.com
Washington was splashed by sun and heaped with snow during John F. Kennedy's inauguration on January 20, 1961. Although more blacks participated than ever, some were disappointed Kennedy hadn't invited Martin Luther King Jr. or mentioned civil rights.
Activists were also dismayed to learn that Kennedy didn't plan to ask Congress for more civil-rights laws immediately. He would shun "the forward pass," grumbled Roy Wilkins of the NAACP, in favor of surer gains through symbolic gestures and limited executive action.
In his first months in office, JFK appointed more than 40 blacks to important federal positions and named the first African-American, John B. Duncan, to the Board of Commissioners of the District of Columbia. Yet he failed to deliver on a promise to abolish discrimination in federally subsidized housing and to seek civil-rights legislation ending discrimination in public places.
In March 1961, Kennedy issued an executive order creating the President's Committee on Equal Employment Opportunity, aiming to stop discrimination in federal employment and federally contracted jobs. Knowing that JFK and attorney general Robert Kennedy were committed to ending racial discrimination in hiring, Secretary of the Interior Stewart Udall decided to challenge the hiring practices of Redskins owner George Preston Marshall.
Udall notified JFK in his weekly report on February 28, 1961: "George Marshall of the Washington Redskins is the only segregationist hold-out in professional football. . . . The Interior Department owns the ground on which the new Washington Stadium is constructed, and we are investigating to ascertain whether a no-discrimination provision could be inserted in Marshall's lease."
Udall didn't anticipate that he'd provoke a showdown.
With Kennedy's approval, on March 24 Udall notified Marshall that the Interior Department had signed off on regulations prohibiting job discrimination by parties contracting to use "any public facility in a park area." Udall added that "there have been persistent allegations that your company practices discrimination in the hiring of its players." At a news conference, Udall said that if Marshall continued his ban on blacks, he'd be denied use of the new D.C. Stadium, to open later that year.
Udall told reporters that when the Armory Board negotiated the lease with Marshall in 1959, the board inserted nondiscriminatory hiring language. The owner had no problem with the provision as it pertained to stadium employees. But at Marshall's insistence, the clause relating to players was removed.
A reporter asked if Marshall could cry foul—the team's owner had negotiated a lease in good faith, and now the terms were being altered. Udall pointed out that the lease also contained language stating that the Redskins would comply with all Interior Department regulations: "He knew that when he did it."
The New York Times and Washington Post ran front-page stories on Udall's ultimatum.
"I don't know what the hell it's all about," Marshall told reporters. "I never realized so many fans were interested in a football team that won only one game." He joked that if Udall could get Lenny Moore—the Baltimore Colts' star African-American running back—he'd certainly use him.
Marshall wrote a defiant letter to Udall claiming he'd broken no laws, had signed a lease on that basis, and had turned the matter over to his attorneys.
"He had good reason to scoff," Udall told me, "as his lawyers had gotten an 'airtight' lease giving him a free hand from the Stadium Armory board. The problem was that his lawyers overlooked the Park Service and Interior."
Marshall sounded off to a reporter: "I am surprised that with the world on the brink of another war, they are worried about whether or not a Negro is going to play for the Redskins." He downplayed the discrimination charge: "All the other teams we play have Negroes; does it matter which team has the Negroes?"
He claimed that the Redskins lacked blacks because the team recruited players from segregated Southern colleges. Recruiting Southern white players, he said, was a business decision—he didn't want to offend his white Southern radio and TV audience.
Udall gave the Redskins a deadline. To avoid cancellation of the lease and possible criminal prosecution, Marshall had to comply by the first home game on October 1. Marshall could best do this by signing a black player. Udall suggested a trade, saying that with a black player, the Redskins might actually win.
• • •
Meanwhile, civil-rights activists were confronting racism in the South. Through Freedom Rides, they sought to test a 1960 Supreme Court decision prohibiting segregation in bus-terminal restaurants, restrooms, and waiting areas. The first two-week Freedom Ride, in May 1961, took a racially mixed band of young activists on two buses from Washington to New Orleans. Their first violent encounter in Rock Hill, South Carolina, was mild compared with their reception in Anniston, Alabama, where one of the buses was smoke-bombed and white supremacists clubbed the activists.
Udall fired off another warning in July threatening to withhold use of the stadium for Redskins games.
Marshall told a reporter, "You can't tell what will happen under the guise of liberalism." Still, he said he'd probably comply with the federal directive, even if it meant hiring "Eskimos or Chinese or Mongolians."
Perhaps fearful of jeopardizing gains already achieved, black players kept a low profile. Chicago Cardinals running back Ollie Matson admitted to Washington Post sports columnist Shirley Povich that black players "try a little harder when we play the Washington team."
In the summer and fall of 1961, members of the NAACP and the Congress of Racial Equality (CORE) picketed the D.C. Stadium construction site and the Redskins' exhibition games in the West and South.
Povich also kept on the pressure. There was little evidence, he said, to suggest that fans "would resent a Negro player on the Redskins, particularly if he could score touchdowns, in living color."
William Shea and Jack Kent Cooke, members of the Redskins' board of directors, urged Marshall to yield. Football owners, who had recently signed a lucrative TV contract and dreaded the publicity of Marshall's intransigence, asked NFL commissioner Pete Rozelle to mediate.
Rozelle initially refused, labeling the controversy "strictly a club problem." But Udall told him the government wouldn't back down, and Rozelle, who had a background in public relations, could identify with owners embarrassed by the publicity.
Rozelle met with Marshall in August and persuaded him to relent in the interest of the sport and the league's big new TV deal. Following that meeting, Marshall announced that his team had "no policy against the hiring of football players because of their race" and would consider selecting some black players in the December draft. He mentioned running backs Ernie Davis of Syracuse and Larry Ferguson of the University of Iowa.
Marshall's statement prompted a concession by Udall. He'd permit the Redskins to field an all-white team at D.C. Stadium in 1961 if they agreed to place a black player on their roster the following year.
For the Redskins, the 1961 football season was a nightmare. Black residents, who had become a majority in the District, were increasingly demonstrative. They boycotted games and picketed the stadium with signs reading "People who can't play together, can't live together." JFK favored home rule for the District and refused an invitation to attend the Redskins opening game at the new stadium.The Redskins opened the 1961 season in San Francisco with a 35–3 loss to the 49ers, as blacks outside the stadium picketed. "The greater blow for equal opportunity, however, was struck on the field where the thoroughly integrated 49ers won as they pleased," wrote the San Francisco Examiner's Prescott Sullivan. The Redskins, he continued, "were helpless. . . . They could have used some fast colored backs. Hell, for that matter, they could have used the picket line!"
The team's only win came against the Dallas Cowboys in the last game of the season. They finished with a record of 1–12–1.
"What's wrong with the Washington Redskins?" asked a headline in Sport magazine. There were multiple answers. First, Marshall had failed to establish a decent scouting system, part of his general reluctance to open his wallet. Second, head coach Bill McPeak, assistant coach Ted Marchibroda, and quarterback Norm Snead were all rookies. Half of the 40-man squad had a year or less of playing experience. But Marshall's refusal to recruit talented blacks was the most common explanation.
The media hyped the possibility of the Redskins' obtaining Syracuse halfback Ernie Davis. University of Maryland coach Tom Nugent sent letters to his team to fire them up for the October 7 home game against Syracuse. "We must be ready for them and put on a good show for our fans and for the thousands who will come out to see Davis, now that he has a chance to become a Redskin. It will be an exciting day as the Nation's most outstanding back performs on our field."
The Terrapins upset Davis and the seventh-ranked Syracuse Orangemen 22–21.
• • •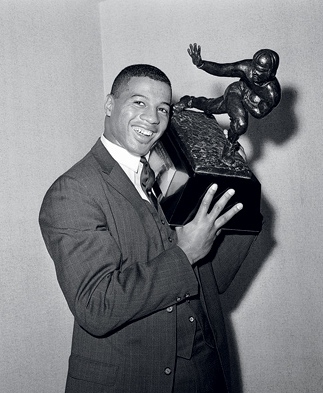 With their abysmal record, the Redskins would have an opportunity to improve themselves in the annual player draft in December. Separate player drafts were held for the two leagues—the NFL and the AFL. The AFL's selections would take place December 2, the NFL's two days later. In both leagues, weaker teams would make selections before strong­er teams. The Oakland Raiders had the first choice in the AFL draft; the Redskins had the first pick in the NFL.
Ernie Davis was considered the premier player, and Marshall had indicated that talent would guide his selections. But adding Davis was hardly a done deal. Marshall could draft him and be unwilling or unable to match the salary offered by an AFL team, or he could draft Davis and trade him for several other players.
The draft was complicated further by Marshall's nemesis, Harry Wismer. The owner of the AFL's New York Titans coveted Davis and promised to outbid any competitor. To give AFL owners more time to sign college players away from the NFL, Wismer convinced them to hold a secret draft two weeks before the announced date of December 2.
In that "sneak" draft, the Titans selected Ernie Davis. Unhappily for Wismer, AFL commissioner Joe Foss nullified the sneak draft because he hadn't been notified. Although irate over Foss's ruling, Wismer vowed to draft Davis on December 2 and offer him more money than the Redskins.
The Redskins expressed strong interest in Davis. In November, Marshall sent assistant coach Ted Marchibroda to South Bend, Indiana, to speak with Davis after the Syracuse/Notre Dame game. Marchibroda told Davis that the Redskins might draft him.
Marshall solicited help from Adam Clayton Powell, an African-American congressman from New York. The Redskins owner approached Powell one evening at Duke Zeibert's restaurant in downtown DC. Addressing Powell as "Parson"—he was a baptist minister—Marshall asked him to visit Davis after a Syracuse game to put in a plug for the Redskins.
Powell said: "You know, George, I've been thinking. One nigger won't be enough. You need more than one. Three or four niggers would be better."
"Oh, Parson," Marshall replied, "you mean a matched set."
In a late-November press conference, Marshall and coach Bill McPeak fielded questions about Davis. When McPeak was asked if he'd trade the draft rights to Davis, Marshall interrupted: "That question should be directed to me because I'm responsible for this team. But I will defer to the coach. He may make a deal or he may not. It's up to him. Naturally, as owner, I would insist upon being consulted."
Asked if the Redskins would draft a black player, Marshall hedged: "If we take a Negro, it will be because we think he's the best pick."
Marshall's tone brought a response from Udall. The time for showboating and posturing, the Interior Secretary told the press, would soon be over.
• • •
Marshall had cause to be upbeat about the NFL draft. First, he had decided to avoid the showdown with Udall by selecting Ernie Davis with the first overall pick. Second, he had doubts about his ability to sign Davis but knew he would carry good trade value. Third, he coveted the attention he and his team would receive about whether they'd sign Davis, lose him to the AFL, or trade him. Finally, he must have taken satisfaction in the frustration of his enemy, New York Titans owner Harry Wismer.
For Wismer, the AFL draft couldn't have gone worse. Expecting the eight AFL teams to make selections as they had in the earlier sneak draft, he opted not to attend, sending general manager Steve Sebo to select Ernie Davis with the fifth overall pick. True to form, the first three teams drafted as they had two weeks earlier. Oakland took quarterback Roman Gabriel, Denver chose tackle Merlin Olsen, and Dallas selected running back Ron Bull.
But instead of picking Louisiana State running back Wendell Harris, as they had before, the Buffalo Bills selected Ernie Davis. The Titans were stunned. Confident of obtaining Davis, they failed to have a backup plan. After two frantic telephone calls without reaching Wismer, Sebo chose Sandy Stephens, an African-American quarterback from the University of Minnesota.
Wismer fumed about losing Davis and blasted AFL commissioner Joe Foss. Wismer also claimed that Davis had agreed verbally to a three-year contract with the Titans for $100,000 plus a $25,000 signing bonus: "I asked him: 'Are you satisfied?' And he said, 'Yes, very much so.' "
Wismer claimed that the Bills didn't have the money to attract Davis. He vowed to make a trade with Buffalo, negotiate with Davis, and pay any price to keep him away from the Redskins.
• • •
At the NFL draft on December 4, there was plenty of intrigue. As coach McPeak later explained to the Washington Star's Morris Siegel, "[Marshall] told me we had to get a black player. . . . . He didn't know whether he wanted to draft a black or trade for one with experience, but he said he thought he could work something out with [Cleveland coach] Paul Brown."Only half seriously, Marshall had offered a second-round draft pick for Cleveland Browns running back Bobby Mitchell, an African-American. That proposal wasn't taken seriously, but it escalated into an offer of a first-round pick for Mitchell.
Marshall chose not to attend the draft session, authorizing McPeak to make the selections. With the first selection, McPeak took Davis. McPeak then took another minority player, halfback Joe Hernandez from the University of Arizona, Udall's alma mater. And in the eighth round, he drafted Ron Hatcher, an African-American from Michigan State.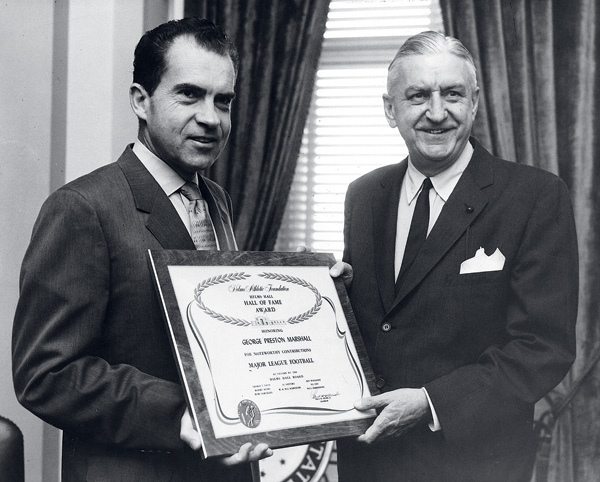 Redskins owner George Preston Marshall, right, with Richard Nixon. Photograph courtesy of Pro Football Hall of Fame
• • •
The press applauded the Redskins for selecting Davis. "When the Redskins drafted Davis there was the clear understanding by Marshall that Secretary of Interior Stewart Udall was looking over his shoulder like a baleful Big Brother," wrote the Post's Shirley Povich. But on the morning of the December 4 draft and with Marshall's approval, McPeak had secretly agreed to trade Davis to the Cleveland Browns for veteran Bobby Mitchell and Leroy Jackson, a black halfback whom he asked Cleveland to take with one of their two first-round picks. The deal was kept secret pending its completion and because Mitchell had the rest of the regular season and possibly postseason to play.
Rumors leaked out. Baltimore Colts owner Carroll Rosenbloom said almost immediately after the draft: "I'll bet all I own [that] the Browns wind up with Davis. I think repercussions in Washington will be considerable when the fans learn the Redskins have traded Davis to a team in their own division."
Asked if the Redskins could sign Davis, Marshall boasted: "I think it's no problem." Pushed about whether he had traded Davis, he said: "I wouldn't say so."
Marshall basked in the publicity. When Davis went to New York to receive the Heisman Trophy, President Kennedy met with him at the Waldorf Astoria. When JFK asked about his plans, Davis replied: "I play in the Liberty Bowl at Philadelphia December 16, sir. After that, I haven't made up my mind."
He also mentioned his lack of interest in being a racial pioneer: "I am not interested in the racial issue. All I want to do is be a success. I don't feel the Redskins would be making a case for me like Jackie Robinson in baseball. "
A Washington Afro-American editorial took issue with Davis's desire to be a regular guy: "American society has not granted any colored person this privilege." If Davis signed with the Redskins, he would soon learn that not just any guy could rent property on Connecticut Avenue or in Georgetown.
• • •
Ultimately, Ron Hatcher, the eighth-round draft choice from Michigan State, not Davis, became the first African-American to sign a contract with the Redskins. At the signing ceremony, Marshall refused to be photographed with Hatcher. He didn't want to "exploit" the situation, he said, and told coach McPeak to pose with Hatcher.
Marshall's "sudden attack of tender concern" over exploitation brought a rebuke from Shirley Povich. Still, Povich wrote, Marshall was to be commended for yielding to White House pressure to sign an African-American: "It could be the beginning of better football for Washington fans and is certainly the beginning of a more dignified football situation here."
Signing Hatcher was a significant story in the black press, and the Afro-American lifted its quarter-century boycott of Redskins coverage, sending sports editor Sam Lacy to cover it.
Marshall consented to an interview at his office. Offering a grin and a handshake to Lacy, Marshall said: "It has been a long time—15, 20, 25 years?"
Lacy said, "I had no reason to see you before today."
Marshall, according to Lacy, downplayed his record of bigotry by mentioning his contributions to the economic advancement of blacks: "For years, I was one of the city's largest employers of colored persons. I was the first laundry operator to use all colored route men. . . . I was the first to use colored ushers and vendors at Griffith Stadium athletic contests, and at one time there were nearly 500 colored persons employed by [the Palace Laundry]."
It was one thing to hire blacks for menial jobs, said Lacy, but another to employ them in professional capacities. When Lacy pressed for the reason he wouldn't be photographed with Hatcher, Marshall said he didn't want to "exploit the boy."
"Why take pictures with Hatcher," Marshall said, "when we have scores of rookies to sign Redskin contracts each year? I don't pose with them."
• • •
On December 15, the Washington Post reported the trade of Davis to the Cleveland Browns for Leroy Jackson and a player to be named later, rumored to be Bobby Mitchell. Technically, the Browns acquired only the negotiating rights to Davis. If they lost him in a bidding war with the Bills or Titans, the Redskins would still keep the players acquired in the trade.
Several factors prompted Marshall to trade Davis. First, Davis would be pricey and difficult to sign. Although New York Titans owner Harry Wismer hadn't secured the draft rights to Davis, he had set a lofty salary bar of $125,000 for three years, and Marshall wasn't about to pay any player, white or black, that much. Second, Marshall doubted Davis wanted to play for the Redskins. Third, he could personally attest to Mitchell's versatility and breakaway speed, having watched him, in a game against the Redskins, score three touchdowns on a 52-yard pass, a 64-yard punt return, and a 31-yard run. In a 1959 game at Griffith Stadium, he saw Mitchell rack up 232 yards on 14 carries.
Marshall wanted a proven black player who could help the team immediately. He said he had initially offered Davis to Baltimore for Lenny Moore but the Colts had turned him down.
"When the deal is fully announced," said Marshall, "I think the fans will agree it should mean immediate victories for the Redskins."
The Cleveland Browns sought a powerful runner to pair with Jim Brown in the backfield. Mitchell was speedy but slight, featuring shiftiness more than power. Mitchell glided; Brown pounded. Moreover, Mitchell had a military commitment with the Army Reserves at Fort Meade that made him available only on the weekend.
Art Modell, who had acquired the Browns in 1961, coveted Davis. "It would have been the greatest backfield in the history of the NFL," he later said. "We would have surpassed the Paul Hornung/Jim Taylor backfield for the old Green Bay Packers."
Jim Brown was less enthusiastic: "I thought Bobby Mitchell was the perfect complement to my style. He returned punts, kickoffs, he had outside speed. He was a touchdown guy. Ernie [Davis] was the same as me. But all that aside, I knew Ernie would be a great, great pro. I was excited to have him playing on the team with me."
Soon after starring against Miami in the Liberty Bowl, Davis signed a $200,000 no-cut contract with the Browns. In 1962, he was diagnosed with acute leukemia and never played professionally. He died in May 1963.
• • •
Mitchell joined the Redskins after the trade became official in 1962. That spring, the team added another experienced African-American when it acquired guard John Nisby from the Pittsburgh Steelers. The Redskins had "done a complete turnaround in their hiring policy," wrote sportswriter Sam Lacy. In all, the roster might include five black players. Moreover, trading a white player, Ray Lemek, for a black one, Nisby, "served to further bolster the belief that Washington's pro football scene will be desegregated this fall," Lacy said.
In all, five African-American athletes had a chance to make the Redskins' 1962 roster. Joe Hernandez, however, waited to sign until 1964 and played sparingly for only that year. Ron Hatcher, the first black to sign with the Redskins, played three games in 1962 before being released. Like Mitchell, Leroy Jackson was a college track star with blazing speed, but unlike Mitchell, he lacked running and pass-catching ability. He played two years but saw limited action.
Mitchell and Nisby made major contributions. Nisby was selected for one Pro Bowl during his time with the Redskins (in addition to two with other teams) and Mitchell three (plus one with the Browns). Mitchell was elected to the Pro Football Hall of Fame.
At his first training camp, Mitchell expressed shock, not at matters of race but at the lack of Redskins talent he saw on the field. "I kept waiting for somebody to walk out there who looked like they could play football," he recalled. "And I said to Bill McPeak, ' This is the team?' and he said, 'Oh, yeah, this is the team.' "
An Arkansas native, Mitchell considered Washington to be the North. But shortly after returning from training camp in California, he learned it wasn't free from Jim Crow."I began to go places, and people kinda got uptight," he remembered. There were restaurants that were off-limits. Once, he and assistant coach Ted Marchibroda left Redskins headquarters for "a place across the street where the coaches used to eat all the time. . . . We walk up to the door, and all of a sudden the guy doesn't know him."
Mitchell faced enormous pressure to perform: "It was a real traumatic thing to come from a winning football team, great surroundings, where your coach and management looked after you, to come here, where you were being called 'nigger' every day, and every time you run down the field, some guy's throwing something at you. . . . And we're talking about the '60s. To have all that on your shoulders and try to perform, you had both white and black who couldn't stand for you to make a mistake."
Less sensitive, John Nisby found "very little difference playing with the Redskins and playing with the Steelers." The stamina, focus, and discipline required to play well, he said, enabled him to block outside distractions.
In an interview in Black Sports, Mitchell said of his teammates: "Some of the whites didn't want me there, and the blacks got mad if I'd drop the ball. To the blacks, I had to be perfect. But Norm Snead was great. He just wanted to throw the ball to a guy who would go get it."
Some Redskins weren't welcoming. "They were used to playing mediocre football and still being in the paper," he said. "All of a sudden, I'm raising a little hell on the field, so I was getting in the paper. . . . And they got the rumors, too, that maybe I'm making more money than some of 'em." Indeed, Mitchell almost instantly became the highest-paid Redskins player.
Today he downplays the team's history of racism, attributing Marshall's lily-white hiring record to personality and business. Marshall was genetically stubborn and resisted advice to integrate. He was also a savvy business executive who fed on the prejudice of his mainly white Southern audience.
"We had trains coming here from down South," Mitchell told Black Sports. " 'Dixie' was the National anthem, and you had to stand up there and sing it or he'd give you the devil. But that's how he made his money."
• • •
In late April 1962, Mitchell signed a contract with the Redskins for a reported $20,000, the highest in team history.At the signing, Marshall hurled defiance at the White House. Udall's big-stick ultimatum had no influence on his decision to hire black players, he claimed: "Our lawyers and for that matter some of the secretary's own legal talent told him he could not keep us out of the stadium. We wanted Mitchell because he was the best available offensive back in the league . . . ." If he was responding to a White House ultimatum, he continued, he would have added only one token black player, not several.
Marshall expressed optimism over what he called the team's "new look." The Redskins, he said poolside from a Beverly Hills resort, had added "sting" to their offense with Mitchell, Jackson, Nisby, and fullback Bill Barnes, who was acquired by a trade with the Eagles. Marshall was so promotion-minded, said Melvin Durslag of the Los Angeles Herald Examiner, that he probably would claim that the integration of pro football was his idea.
Both Nisby and Mitchell distinguished themselves. In the first game at Dallas, which ended in a tie, Mitchell ran back a kickoff for a 92-yard touchdown and scored on two passes from Snead. In the second game at Cleveland, he caught a 50-yard pass in the final minutes to upset the Browns 17–16.
The Redskins' first home game of 1962 was against the St. Louis Cardinals. Interior Secretary Udall accepted Marshall's invitation to be a guest. Once again, Snead and Mitchell brought the team victory. Mitchell caught touchdown passes of 41 and 23 yards.
"It could only happen in Washington, of course," wrote UPI Washington correspondent Lyle Wilson, "that a politician, merely by a commitment to civil rights, could turn a losing football team into a winner."
• • •
After the first six games, Redskins fans were nearly euphoric, the team having a record of four wins, zero losses, and two ties. New York Giants coach Allie Sherman called Mitchell "the greatest open field runner in the league."In late October, before a home game against the Cowboys, Marshall consented to an interview with Frank Boggs of the Dallas Times Herald. Asked if he anticipated a merger of the two pro football leagues, he said: "There's no reason for one. The other league has nothing to offer."
"How have the Redskin fans reacted to your breaking the color line?" Boggs asked.
"They haven't paid any attention to it," Marshall said "Only thing that ever interested them is can they play football. . . . "
"Once . . . you were picketed because of not playing Negroes. . . . Did that picketing ever bother you?"
"No."
"Were you forced by [Udall] into breaking the color line, or did—"
"No, no, no! He had nothing to do with it."
The Redskins couldn't sustain their strong start and ended the season with five consecutive losses. Still, they attained their best record in years, with five victories, seven losses, and two ties. Mitchell led the league with 72 receptions and had 11 touchdowns, earning selection to the Pro Bowl. Nisby also was selected to play in the Pro Bowl, and he was given a raise to $13,000 for the coming year. Rewarded with a $5,000 increase to $25,000 yearly, Mitchell celebrated by buying a gun-barrel-gray Corvette Stingray.
• • •
The integration of the Washington Redskins won praise for the Kennedy administration. Black sportswriter Sam Lacy termed it "a revolution in Washington."Sportswriters dubbed Interior Secretary Stewart Udall "coach of the year."
The transaction that brought Bobby Mitchell to the Redskins turned out to be one-sided. The Cleveland Browns, one of the first teams to integrate the sport, received a Heisman Trophy winner, Ernie Davis, who never played professionally. The Redskins, owned by a racist who had steadfastly resisted integration, obtained a future Hall of Famer.
Adapted from Showdown: JFK and the Integration of the Washington Redskins, copyright © 2011 by Thomas G. Smith. Reprinted by permission of Beacon Press.