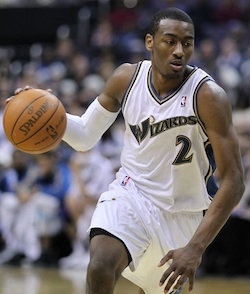 The all-knowing entity that is ESPN has taken upon itself the unenviable task of ranking the top 500 players in the NBA. Call it the list that launched a million angry tweets. The Twitterverse waits with bated breath for them to reveal the top 35, but for Wizards fans the mystery is over. That's because John Wall was recently unveiled as the 40th best player in the league by their panel of 91 experts. 40th! It's enough to make me want to scream invective in 140 character bursts.
Let's take a closer look at Wall's ranking, and the rankings of every other Wizards player. Anything to take our minds off of the damned lockout.
40. John Wall
When parsing this list it's important to remember that the players are ranked based on the abilities they've displayed, and do not take potential in to account. That said, come on, experts! Wall was ranked directly behind two other guards, Stephen Curry and Eric Gordon. Both are excellent young players who will be targeted and systematically destroyed by Wall on his way to next year's top ten.
99. JaVale McGee
I would've liked to have been in the room when McGee was told he was ranked behind Roy Hibbert, who isn't even the best basketball player on NBC's Parks and Recreation. Not that a ranking just under 100 should come as a big surprise. McGee has confounded NBA observers for a few years now. He has the highlight reel of a top-50 player, but until he puts it all together, he'll be ranked behind guys like OJ Mayo. And that has to sting.
144. Rashard Lewis
That's a high number for the guy who will be the league's second-highest paid player if and when the season starts. To his credit, Lewis knows he's grossly overpaid and he's willing to do something about it. He's also been working hard to regain a shred of the old form that helped him land that nine-year contract in the first place. One thing is for sure, I'd rather have him than JJ Reddick who is ranked one spot higher.
146. Nick Young and 147. Andray Blatche
These two were lumped together by sheer chance. Far be it from me to break them up. It's a fitting pairing, really. And what makes it all the more enjoyable is that Young took the higher spot between the duo. That probably bothers Blatche more than looking up at Mr. Kim Kardashian (145).
189. Josh Howard
You know your game is rusty when you're ranked five spots behind the corpse of Greg Oden.
210. Jordan Crawford
Crawford is goin' to prove all of his doubters wrong by taking 25 shots per game. That'll show 'em.
280. Yi Jianlian
He would have been ranked higher if they'd opened this to online voting. Alas, even this ranking seems a bit generous after watching him play for two years.
304. Kwame Brown
Never forget.
313. (tie) Jan Vesely
It's interesting that they included rookies on the list. Interesting and kind of pointless. Maybe Vesely would be higher if his European highlights were available in a higher resolution.
320. Maurice Evans
Apparently being on the NBPA Executive Committee doesn't factor in to one's ranking. Etan Thomas will be inconsolable.
321. Trevor Booker
Don't try to understand how Booker could be ranked 41 spots behind Jianlian. It's not worth the headache.
Here's how the rest of the current Wizards roster shakes out. Remember guys, playing in the NBA at all is quite an honor.
435. Kevin Seraphin
450. Othyus Jeffers
469. Shelvin Mack
482. Larry Owens
486. Hamady N'Diaye
469. Lester Hudson