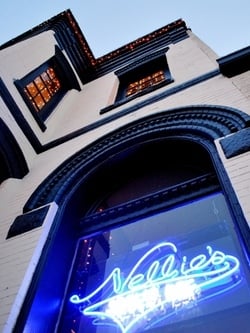 Washington attracts people from all over the country, which means you can find folks around town who are fans of teams like the Bengals and the Lions. No matter whom you root for, chances are that incredibly loyal followers have staked out territory in local bars, many of which offer food and drinks that will remind you of home. Check out our list—and make sure to leave your suggestions in the comments section.
Baltimore Ravens: Rocket Bar
Ravens aficionados can congregate here if they don't mind sharing the bar with Giants and Browns fans. (Then again, if they do, they can simply head north on I-95.) At Rocket Bar, you'll find pool, shuffleboard, and darts for halftime entertainment, along with three full bars. If you're around for the 1 PM games, you can partake in a $4 mimosa or bloody mary; the 4 to 7 happy hour offers $4 rail cocktails, $4 draft beer of the month, and $4 glasses of Champagne—the perfect complement to a win.
Buffalo Bills, New York Giants, New York Jets: 51st State Tavern, McFadden's, Jimmy's Old Town Tavern
Being "DC's only NY sports team bar" is 51st State's claim to fame. The bar, which opens at 12:30 PM during football season, boasts nine TVs, including a 60-inch plasma screen. If you only support the Bills and don't want to mix with the other New York teams' fanatics, try Jimmy's Old Town Tavern in Herndon.
Buffalo Bills: Grevey's, Grand Central
Grevey's has been a Bills stronghold since it opened in the mid-'80s; owner Kevin Grevey was a shooting guard for the 1978 NBA champion Bullets, and his wife is a Bills fan. On game days, the bar offers $10 pitchers of Bud Light and $4 Maker's Mark drinks. When the Bills are doing well, upward of 100 fans can be found kicking back in their own section equipped with two projection screens, and eating Buffalo wings and upstate New York's classic sandwich, beef on weck. Grand Central also offers beef on weck, along with some familiar beers: Labatt Blue and Labatt Blue Light for $3, and Molson Canadian for $4. Hall of Famer Bruce Smith occasionally turns up, too.
Carolina Panthers: McFadden's
At McFadden's, Panthers fans get their own upstairs room, complete with five high-def TVs. Domestic drafts are $3 on game day.
Chicago Bears: Third Edition, Union Pub
Bears fans congregate at Third Edition, where happy hour runs all day on Sundays.
Cincinnati Bengals: The Bottom Line
There aren't many places around here where you can spot multiple Rey Maualuga jerseys, let alone 200 enthusiastic Bengals fans. Enjoy the surreal experience with a hearty bowl of Cincinnati chili and a cheap beer. But get here early—the place does fill up.
Cleveland Browns: Regional Food and Drink, Neighbor's Restaurant
Lucky Bar used to be the favored hangout for DC-area Browns fans; now Dawg Pound die-hards have migrated to Regional Food and Drink (RFD), which has a separate back room and a patio equipped with five TVs and a projector. Cleveland natives will appreciate the $4 Great Lakes on game days, but fans of any team can cheer for RFD's 36 draft beers and 200 bottles. Browns fans who want to be reminded of home should check out Neighbor's, which has been described on Yelp as "so ugly that it's beautiful." Sixty-odd fans usually show up on game day and receive 10 percent off the total check. (Everyone else gets happy hour prices.) Also setting this bar apart: hookah and kabobs.
For more, see the Washington DC Area Browns Backers Club Web site.
Dallas Cowboys: My Brother's Place, Mezza Luna Restaurant and Lounge
If you don't mind a young crowd, head to My Brother's Place, which has eight TVs, including two projector screens. There you'll find 30 to 40 Cowboys fans and an equal number of Skins fans—a scene ripe for friendly trash-talking, especially considering the $2 domestic drafts and $3 rail drinks during Dallas games. Mezza Luna has a reputation as a site of serious Cowboys worship (the manager is a fan and gives 10 percent off your check if you're in Cowboys gear), and also happens to serve a special Sunday brunch during football season.
Denver Broncos: Penn Quarter Sports Tavern
Penn Quarter Sports Tavern attracts enough Broncos fans that they often get their own floor, and they've created their own drink—the Bronco Bomb (a vodka and Blue Curaçao shot dropped in Orange Crush)—to celebrate.
Detroit Lions: Tonic at Quigley's Pharmacy (Mount Pleasant)
Lions fans can enjoy $2.59 Bud Light drafts while watching the game at Tonic's Mount Pleasant location; the other is an expansion Packers bar (see below). Linger after 10 PM to celebrate the win and partake in half-price burgers.
Green Bay Packers: Tonic at Quigley's (Foggy Bottom), Hamilton's, Nellie's Sports Bar, Duffy's Irish Pub
With Hawk 'n' Dove on deck for an eight-month shutdown as it changes hands, Packers fans could do worse than Tonic at Quigley's on the GW campus, where one intrepid manager is trying to grow a grassroots cheesehead movement. True Wisconsinites will enjoy the $5 Leinenkugels and generously sized $4 brats—no cheese curds yet, though. At Duffy's, Johnsonville brats and Leinenkugels are both $4. For a taste of that old Madison party scene, check out Hamilton's for Packers and Badgers games, and after a game of beer pong or flip cup, head to My Brother's Place next door to say hi to the Cowboys fans. Another option is Nellie's Sports Bar, which typically attracts a gay crowd, making for a fun cultural cross-section.
Kansas City Chiefs: Grevey's
You might have to buy a Bills or Skins fan a beer to get him (or her) to give up a booth with a TV, but Grevey's Restaurant & Sports Bar is your best bet for a Chiefs game.
Miami Dolphins: Glory Days Grill, BlackFinn, Breaker's
Though Glory Days doesn't offer fan specials, happy hour prices are a bonus for games on between 4 and
7. Aptly named Dolphins bar BlackFinn has 21 TVs, including three large projector screens and three distinct sound areas. Fins fan turnout has ranged from five to 150, but there's something for everyone—almost all the games are on, and you can share a $20 Miller Lite tower with your friends. In Northern Virginia, a Meetup group recently inaugurated Breaker's Sky Lounge and Sports Bar as the regional destination for "Dolfans."
New England Patriots: Kelly's Irish Times, Murphy's Pub
The Murphy's in DC attracts about 50 fans every Sunday, while the one in Alexandria draws up to 150. Both locations offer Sam Adams lager and seasonal drafts for $3.50; managers who actually hail from Ireland; and a menu of hearty classics like bangers and mash and Irish meat-and-potato pie.
Don't bring up the tuck rule at Kelly's Irish Times, where some 100 to 150 Pats fans gather on one floor and 75 to 100 Raiders fans congregate on the other. There you can find $4 Sam Adams drafts, $3 domestic bottles, and a $5 food menu. See the DC Area Patriots Fan Club and the DC Raiders Booster Club for more.
Oakland Raiders: Morgan's Sports Bar and Lounge, Kelly's Irish Times
Members of the DC Metro Raiders Booster Club gather at these two spots weekly. At Morgan's Sports Bar and Lounge in Woodbridge, a regular crew of 50 Raiders fans make like it's the Coliseum: They tailgate beforehand, and a few even show up in full costume. A 25 percent discount on food and drink encourages the party—but don't worry, it's still family-friendly. Game-day raffles offer prizes such as leather jackets, Raiders gear, and Bed Bath & Beyond gift certificates. For more, see the DC Metro Raiders Web site.
Philadelphia Eagles: Rhino Bar & Pumphouse, Ventnor Sports Cafe
On game day, 200 fans chanting "E-A-G-L-E-S" fill the Rhino Bar, which recently added 20 LCD flat-screens so you can view the game from practically any spot in the house. Sunday specials include $8 domestic pitchers and 25-cent wings. The place has two floors, but get there early—it gets packed. At Ventnor Sports Cafe you'll find large contingents of Steelers and Bears fans, as well as Eagles fans, but what sets this bar apart is the Philly beer: Yards, Sly Fox, Philadelphia Brewing Company, and more.
Pittsburgh Steelers: Pour House, Union Jack's (Arlington), Tortoise & Hare
Pour House is the local watering hole for the black-and-gold faithfuls. Fans fill three floors, but the majority of of the action takes place on the main level. Union Jack's in Arlington attracts at least 75 Terrible Towelers on most game days; specials include a pint of traditional Pittsburgh beer (Iron City, Rolling Rock) plus a burger or wings for $10. There are 30 TVs, including 3 projector screens, and four different sound zones. Steelers fans get the main room, but be warned—the second biggest fan base there is the Patriots.
San Diego Chargers: Bailey's Pub & Grille (Ballston)
A group of 15 to 30 Chargers fans meets here weekly. It's the place to go for Monday night games, thanks to 45-cent wings all day, and you can stay entertained at halftime with 11 pool tables, three dart boards, four video games, ping-pong, and shuffleboard. Bailey's three large rooms hold a smoking area, a smoking bar, a nonsmoking bar, 52 TVs including 15 large projection screens—and a server who's a Chargers fan.
Seattle Seahawks: Penn Quarter Sports Tavern
Despite sharing turf with Denver Broncos fanatics, some 50 Seahawks fans call Penn Quarter Sports Tavern home on Sundays. Their color-coordinated Seahawktini (an appletini with a shot of Blue Curaçao) rivals the Denver fans' Bronco Bomb for creativity.
Our apologies to any other teams that don't yet have a place to call home on game days, but luckily, many area establishments show every NFL game. Find a table or a spot at any of these bars and enjoy being surrounded by true fans of the sport—even if they're cheering for a different team.
Stetsons
NFL Sunday is all-day happy hour at Stetsons, which means $4 rail drinks and Bud Lights. Or bring your buddies, buy a pitcher of Bud Light for $12.50, and get 25-cent wings. Hamburgers are half-price on Mondays. If you really want to show your pride, you can stake out a corner of the bar and throw up some team paraphernalia.
Velocity Five
Velocity Five shows all the games on 50 large hi-def TVs.
Crystal City Sports Pub
Watch your team on any of the 100 TVs spanning three floors, and check out the third-floor club level, which houses one 10-foot and two 8-foot projection screens.