Fettoosh's vegetarian platter is a feast of dips, falafel, grape leaves, spinach pie, and salads. Photographs by Scott Suchman
It would be easy to whiz right by Fettoosh, a Lebanese/Moroccan cafe in a strip mall just west of Ballston. But look for the fleet of taxis out front—a sign that the place is serving Middle Easterners a taste of home. While the gold-walled dining room isn't rich in atmosphere, the service warms up the place. Big smiles from the waiters—along with the complimentary coffee, pastry, and sweetened mint tea that sometimes arrive at the table unordered—make diners feel welcome.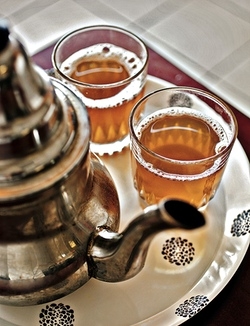 The menu's best value is the shareable Vegetarian Combo ($8.95), which comes with silky hummus and baba ghanoush; warm stuffed grape leaves; freshly fried falafel; and a cheese pie and a spinach pie, which were tasty but suffered from a turn in the microwave. The platter is rounded out with parsley-loaded tabbouleh and the Fettoosh Salad, a mixture of diced cucumber, tomato, onion, and green pepper. Other veggie options—such as a well-seasoned lentil soup ($2.50) and a warm, lemony fava-bean stew called foul modamas ($4.95)—are satisfying and healthy.
For meat seekers, the best bet is the shish tawook ($9.50). The tender garlic-and-lemon-marinated chicken cubes get a boost from a dash of cumin and the charcoal grill. Farrouj mishwi ($8.95), a half chicken on the bone with good dark meat, is similarly flavored and is served with garlic sauce. Kibbi bi-leben ($11.95), a comforting dish from the Syrian city of Aleppo, is fried beef-and-pine-nut nuggets smothered in a cilantro-yogurt sauce. Sandwiches are less interesting, sparsely filled wraps made up mostly of meat and chopped tomato and onion. The spicy maqanik sausages tucked into one ($5.95) and the semi-dry meat in the shish kebab ($5.95) could use some sauce. Entrées are the way to go.
Fettoosh also offers a Moroccan special each day and recently introduced an entire Moroccan menu.
Baklava ($2) was soggy and cloying. Baked squares of semolina and milk ($2) are a better dessert choice. But the refreshing complimentary mint tea or a Turkish coffee ($2.50) is the best way to end a meal.
This article appears in the October 2011 issue of The Washingtonian.