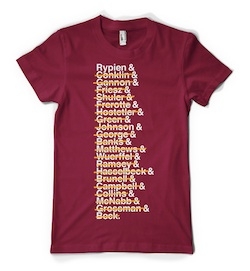 For Mike Shanahan's Redskins, a quarterback change could not prevent a second straight defeat at the hands of a one-win team. It was also unable to halt a six-game losing streak against rookie quarterbacks, including three in three years to the reigning number-one draft pick. Weird stats, yes, but ones that raise plenty of questions. For instance. . .
Did you see Christian Ponder against the Packers?
The Vikings' rookie quarterback played in the second game of the Fox double-header. Lots of Redskins fans hung around their televisions long enough to watch Ponder, who was a rumored target of the Redskins both before and during the NFL Draft. Ponder wasn't jaw-droppingly great, but he was certainly interesting. Considering our record against shiny rookie quarterbacks, maybe it's about time we went down that road ourselves. According to this handy/depressing list, we're about due for our next homegrown signal caller.

But you have to like Ryan Kerrigan, right?
Oh, indeed. I'm not suggesting the Redskins should have been more aggressive in their pursuit of Ponder. I was pleased with their restraint at the time, and I wouldn't trade Kerrigan for any Seminole. It takes a lot of work to rebuild a roster. It can't happen all at once, so important choices have to be made along the way. Yet at some point, the Redskins must develop a franchise quarterback to call their own. Look at all the fun stuff they can do!
Didn't John Beck have a pretty good day? Why can't he be that quarterback?
Yes and no. Beck had an up-and-down day, as should be expected from a guy making his first start in four years. However, many of those ups came with the team already down 17 points halfway through the fourth quarter. Before then, when the game was really up for grabs, Beck completed 12 of 21 passes for 174 yards with a fumble. Despite Shanahan's glowing reviews, this is the John Beck we've always expected. While his play wasn't the necessarily the reason the Redskins lost (check out the tackling in that clip above), I'm not sure he can do enough to help them win.
So what now?
For now, we wait. Patience is not a common virtue among football fans, especially Redskins fans. That said, we don't have much of a choice. That first month of the season was a mirage. Now that we're seven weeks in, we have a better idea of where this team is heading, and it isn't the playoffs. A team that was once 3–1 and miraculously healthy is now 3–3, racked with injuries, and staring down the barrel of an increasingly difficult schedule. They'll likely go with Beck the rest of the way, and he'll have better days. But if he's the quarterback in year three of the Shanahan era, we're wasting our time.
I don't have time for that. Where can I get some instant gratification?
Haven't you heard? The Caps are 7–0!