A newly rich Redskin paid $1.1 million in Leesburg. Photograph by David Pipkin
IN VIRGINIA:
Technology executive Carly Fiorina and her husband, Frank, bought a six-bedroom, ten-bath Colonial on Gunston Road in Lorton for $6.1 million. On five acres, the waterfront house has a pool, wet and dry steam rooms, a theater, an exercise room, and a hot tub. It listed for $7.8 million. The former CEO of Hewlett-Packard, Carly Fiorina ran for one of California's seats in the US Senate in 2010 but lost to incumbent Barbara Boxer.
Alcohol distributors Martin and Lorea Wetten bought a six-bedroom, nine-bath Colonial on Sorrel Street in McLean for $3.4 million. The house has a four-car garage and five fireplaces. Martin Wetten is founder and president of Hop & Wine Beverage, a Virginia-based wholesaler of beer and wine; Lorea Wetten is the company's general manager.
Lawyer Brant Bishop bought a seven-bedroom, seven-bath Colonial on Polo Pointe Drive in Vienna for $2.6 million. On five acres, the house has a pool and outdoor kitchen. Bishop is a partner at Kirkland & Ellis.
Redskin Oshiomogho Atogwe bought a five-bedroom, seven-bath home in Leesburg for $1.1 million. Built in 2006, it has a media room and multiple terraces. A safety, Atogwe signed a five-year, $26-million deal with the Redskins in March.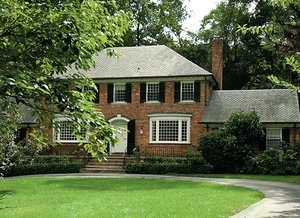 IN MARYLAND:
Artist Drew Nussbaum and his wife, Meridith, bought a five-bedroom, eight-bath Colonial in Bethesda for $3 million. The property, built in 2010, includes a guesthouse and three-car garage. A Washington native, Nussbaum is known for his large-scale paintings.

IN DC:
Lawyer Gregg LoCascio bought a Colonial in North Cleveland Park for $2.9 million. The eight-bedroom house has a library with beamed cathedral ceilings. LoCascio is a partner at Kirkland & Ellis, where he specializes in intellectual-property law.
Lawyer Steven Routh bought a seven-bedroom, five-bath contemporary-style home on Lenore Lane in Forest Hills for $2.7 million. The 10,700-square-foot house has walls of glass overlooking the woods. A partner at Orrick, he specializes in intellectual property.
Lawyers Maureen Dwyer and John Epting sold a Tudor-style home on 27th Street in Chevy Chase DC for $1.9 million. The property includes a four-bedroom main house and a two-bedroom guesthouse as well as a pool and gazebo. Dwyer and Epting practice real-estate law at Goulston & Storrs.
Lawyer Karen Popp sold a house on Rowland Place in Cleveland Park for $1.4 million. The French-country-style home has four bedrooms and five baths. Popp is a partner at Sidley Austin, where she cochairs the firm's white-collar-practice group.
Former Obama appointees Shere Abbott and James Steinberg sold a four-bedroom, four-bath Colonial on Morrison Street in Chevy Chase DC for $1.2 million. Abbott is former associate director for environment in the White House's Office of Science and Technology Policy; Steinberg is former deputy secretary of State. They now are at Syracuse University.
Some sales information provided by American City Business Leads and Diana Hart of TTR Sotheby's International Realty.

This article appears in the November 2011 issue of The Washingtonian.