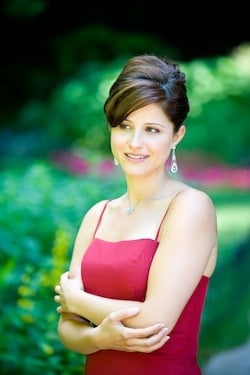 Washington has a rich concert life for classical music aficionados, but how should fans prioritize? What should someone who wants to give classical music a try choose from so many options? These are our picks for the best in classical music in Washington this month.
VOCAL MUSIC: The Washington Bach Consort will perform a concert of baroque music featuring solo voices at the National Presbyterian Church (November 6 at 3PM) with soprano Agnes Zsigovics and countertenor Daniel Taylor. Pergolesi's gorgeous Stabat mater is the main course, with appetizers of J.S. Bach and Christoph Graupner. November 12 at Strathmore, former Secretary of State Madeleine Albright will introduce a concert by the National Philharmonic devoted to "women pioneers" and featuring a rarely heard performance of the Grand Mass in E-flat major by American composer Amy Beach.
OPERA: The Washington National Opera's production of Donizetti's Lucia di Lammermoor is one of the most promising of the season. There are two potentially very good sopranos alternating in the title role (Sarah Coburn and Lyubov Petrova), the rest of the cast is pretty good, and the company's excellent new music director will conduct. The story is as sensationally weird as it gets in opera—there's a murder and a legendary mad scene—and the staging, by David Alden, promises to be bloody and psychologically disturbing. Runs November 10 through 19 at the Kennedy Center Opera House.
CHAMBER MUSIC: Take your pick of two top-notch string quartets in town this month. For classic old-world warm string sound, try the Takács Quartet, playing lesser-heard quartets by Leoš Janáček and Benjamin Britten as well as the glowing Ravel quartet at the Clarice Smith Center in College Park (November 12 at 8 PM). For something a little more abrasive, take the Emerson Quartet, playing Mozart plus two newer quartets by Thomas Ades and Béla Bartók in the lovely auditorium of the National Museum of Natural History (November 19 at 6 PM).
ORCHESTRAS: This month's main symphonic event is the long-overdue visit of the Orchestre Révolutionnaire et Romantique and conductor John Eliot Gardiner, sponsored by Washington Performing Arts Society, in the Kennedy Center Concert Hall (November 19 at 3PM). With a historically minded approach, this ensemble will make you think differently about three works of Beethoven: the third and fifth symphonies and the Egmont Overture. All of this month's programs from the National Symphony Orchestra get our recommendation: Oliver Knussen leading contemporary works as well as Stravinsky's Firebird suite (November 3 to 5); the return of former music director Leonard Slatkin, with cellist Gautier Capuçon in a saccharine program of Saint-Saëns and Rachmaninoff (November 10 to 12; and Christoph Eschenbach taking the podium to lead Beethoven's sixth symphony, plus Leonidas Kavakos playing the Brahms violin concerto (November 17 to 19).
UNUSUAL: The Post-Classical Ensemble is presenting the Charles Ives Project this week, November 3 to 5, with concerts devoted to one of the great composers of 20th-century America, whose music ranges from lush to delightfully weird. Highlights of the festival include the solo recital of pianist Jeremy Denk at Strathmore, combining Ives's Concord Sonata and Beethoven's Hammerklavier sonata (November 4 at 8 PM), and the concert of the JACK Quartet, combining one of Ives's string quartets with later contemporary music (November 5 at 7:30 PM) in the Mansion at Strathmore.
FREE CONCERTS: On the first Tuesday of the month (November 1 at 12:10 PM), members of the Washington Bach Consort perform a free lunchtime concert featuring a Bach cantata at the Church of the Epiphany downtown. This month it is Die Himmel erzählen die Ehre Gottes, BWV 76. Up-and-coming pianist Yoonie Han, winner of this year's Washington International Piano Competition, will make her Kennedy Center debut, playing Beethoven's fourth piano concerto in a free concert with the Avanti Orchestra of the Friday Morning Music Club at the Kennedy Center Terrace Theater (November 2 at 7:30 PM). The Library of Congress hosts free concerts by the Mozart Piano Quartet (November 4 at 8 PM) and by violist Roberto Diaz and pianist Kwan Yi (November 5 at 2 PM); the latter concludes the bicentennial celebration of Franz Liszt. The National Gallery of Art hosts a series of free concerts on Sunday evenings and Wednesdays at lunchtime. Highlights this month include performances by the Talich String Quartet (November 6 at 6:30 PM) and by violinist Alexander Markov (November 13 at 6:30 PM).