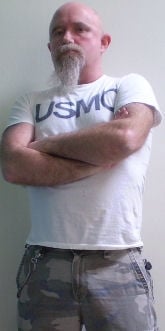 What is it about Dave Hughes and his Web site, DCRTV, that has local broadcasting executives in a lather much of the time—so much so that they're loath to even go on the record to talk about him? Is it that he's right about rumors of hirings, firings, and makeovers in the Washington and Baltimore radio and TV market? Or is it that he is, as they claim, dangerously wrong?
Hughes will tell you that some of these same critics are also among his best sources. Love him or hate him, he attracts thousands of daily readers, and his fans claim that while he markets rumors, he often has the correct story.
Hughes created DCRTV in 1997 as a hobby, covering his self-appointed beat, the behind-the-scenes happenings in local broadcasting: the anchors who are household names; the management who pulls the strings; the general assignment, weather, and sports reporters who migrate from one channel, and town, to another; and the producers and editorial and technical staff who do the heavy lifting. He made the move to full-time in 2004; today, he says, he gets more than 20,000 unique visitors per day, has a number of "small" advertisers, and earns upward of $50,000 annually from the site.
Every week, and sometimes every day, he floats rumors and frequently reports breaking news. There are only occasional items about print, which almost always pertain to the Washington Post and the Baltimore Sun. Sometimes they are a rant about said papers snagging his scoop and making it their own. "I'm not accusing anybody of plagiarism, but they do get stories from me, and then they go and flesh them out. When I break what I think is a big story and two days later it's in the Post or the Sun, it makes me mad, and I call them out on it," he says.
Washington radio veteran David Burd, now with WTOP, says the Washington Post is particularly egregious. "The ladies of the Reliable Source, to name just one, have ripped him off many times and never give his site credit. If you want real-time news about broadcasting, DCRTV is the place to go. If you want wire copy that's three days old . . . go to the Reliable Source."
Hughes admits that some reporters occasionally give him credit "slapped at the bottom of the story. But Dan Steinberg always credits me." Steinberg's colleagues at the Post, Lisa de Moraes and Paul Farhi, less so, he says. Farhi disputes claims that he and his colleagues ever misappropriate DCRTV's scoops. "We do not 'lift' anything," he says. "Every fact we report is gathered through our own journalistic effort."
Farhi also takes issue with Hughes's claim that his site thrives because no mainstream local media outlet routinely covers local broadcasting. "It's true that we don't have someone on the beat full-time, so we have to pick our spots," he says. "But we write about local radio and TV frequently. The best proof of this is on Dave's site. On some days, half or more of the items are blurbs about, with links to, Post stories—often followed later by a rant about how the Post doesn't write enough about local radio and TV!"
Still, if stirring up anger and fear is a measure of success, Hughes scores well. "Does he piss people off?" asks a well-known TV personality, who requested anonymity. "Sure. How could he not?" When Chris Berry ran WMAL, he "would not let anybody read DCRTV," says Janice Ockershausen, a former WMAL sales rep who now owns Best Bark Media. Did Berry use software to block access or fire anyone? "No, but if he found out we read the site, we got in trouble." Ockershausen says the draw was that Dave's rumors were almost always right. "Really remarkably right. Maybe not at the first moment, but he's right at the end."
Hughes says he gets his tips from a "large army of insiders"—people in the highest levels of management, talent, agents representing talent, even regular folks in the mundane jobs. "That's where half my news comes from. A lot of them have grudges: someone who got passed over for a job or saw their best friend get the job they wanted."
He's proud of what he's built, and makes no apologies for the way he works. "Here's my deal," he says. "I don't have the same standards as the Post and the Times. I'm a blogger. I report rumors. A lot of times I have a source who is good and they tell me something and I go with that. Sometimes I do get burned, but a lot of the time what I report does eventually happen."
The anonymous TV personality, who is a DCRTV reader, says he uses the site to learn what's going on in his own office. "Where else am I getting that information? Nowhere else. There are some people who use him as a voice they can never have, like Deep Throat." He adds, "To his credit, when he's wrong and someone rips him a new one, he generally posts that comment and fixes it."
Tommy McFly, host of The Tommy Show on 94.7 Fresh FM, says, "Anyone in the business locally who says they don't peek at the site is lying. All of us check it out, some way more than others."
Just for the record, Hughes does have broadcasting favorites, including Don Geronimo. He believes WTOP is the best for radio news coverage. For TV news, he favors Channel 5, with Channel 4 running second. "Channel 9 used to be the best station in the market," he says, "but Gannett has not treated them well." His favorite local anchors are a conventional choice: Gordon Peterson of Channel 7 and Jim Vance of Channel 4, "because they've been around forever." For local talk radio, he loves Tony Kornheiser, who has a daily show on ESPN 980AM, and The Sports Junkies on 106.7.
"I've always loved Washington radio," Hughes says. Then he adds: "What I absolutely love is I'm not accountable to anybody."