Photograph courtesy of The U.S. Army
Think all watches are created equal? Think again.
The demand for high-tech sport watches with GPS systems has been on the rise, especially among serious athletes. Scan the crowd during marathons or triathlons and you'll find lots of competitors using their wristwatches to record their distance, route, and even heart rate. While plenty of athletes are happy using a simple design with just a timer, watches with more sophisticated features allow users to tune them to their own workouts and performance, which can be extremely helpful for triathletes, who have to keep track of more than one sport.
Carl Schmieg, accessories buyer for Potomac River Running, says the two things to look for when in the market for a sport watch are ease of use and reliability. A watch that can be easily fixed by its manufacturer is key, as there are always issues with GPS tracking systems. Nike watches have proven reliable, since the company provides frequent firmware updates for its watches, Schmieg says.
To get an idea of what's available, check out what Schmieg says are the two best-selling watches at PRR: the Garmin 210 and Nike+ SportWatch GPS. Since Garmin specializes in GPS systems in general, it will offer the highest quality tracking, but the Nike also has a lock down on its display screen. Schmieg says the Nike+ model is "one of the best devices for people who aren't training hard and just want to get a basic idea of [how far or fast] they're running."
And be wary of watches claiming to be "100 percent water-resistant." Most sport watches are water-resistant to an extent, but Schmieg says pushing buttons while underwater can cause issues.
Another thing to check is how the wristband fits. These types of watches tend to be a bit clunkier than regular sport watches, so if that's something that will bother you during training or a race, ask if you can try on the watch at the store.
Finally, once you purchase your watch, the first thing you should do is read the manual. "Ninety-nine percent of people who have a problem with their watch have not read the manual," Schmieg says. "And 99 percent of everything you need to know will be available through an online training video or in the manual."
The four designs below have passed muster with local running professionals.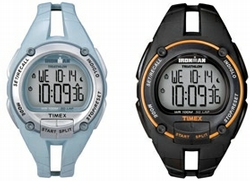 1. Timex Ironman
$40 and up
"If I have a watch that gives me the time of day and a stopwatch function with the ability to do splits, I'm happy," says George Buckheit, Capital Area Runners head coach.
Buckheit has stuck with this model over the years for its reliability and durability. "I've got several of them that I've had for years, and the only maintenance I've ever had to do was change the batteries."
Margie Shapiro, a professional triathlete and owner of Potomac River Running, wears this watch on a daily basis. "It wakes me up in the morning, helps me take splits in the pool, and is great for my coaching needs."
For DC Running coach Mike Hamberger, a self-described "low-tech runner by design," this watch has everything he really needs: "Start, stop, and repeat!"
Same goes for professional marathon runner Mike Wardian, who says Timex Ironmans "just work. They are pretty simple."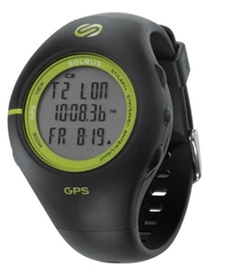 2. Soleus GPS 1.0 Digital Sport Watch
$99
The Soleus is one of the newest GPS sport watches on the market, and one of the cheapest. It appeals to some athletes since it's not as clunky as other models; it also tracks distance, speed, pace, and calories burned, and has a rechargeable battery.
For its low price, it's a great watch, Schmieg says. However, since it is Soleus's first GPS watch, Schmieg says to watch for the company's timeliness in fixing issues when they arise.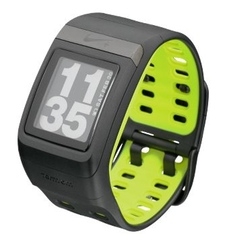 3. Nike+ SportWatch GPS
$199
This is one of the best-selling watches available right now, Schmieg says, mostly due to its sleek design. The GPS is powered by Tom Tom, and the watch tracks your time, distance, pace, heart rate, and calories burned. You can view your mapped route and changes in elevation on Nikeplus.com. As a bonus, if your friends are also Nikeplus.com members, you can view and share running routes.
The display screen presents data in large, bold numbers for easy viewing. During your workout, the main display will show the overall distance of your run; above, the data will rotate to show heart rate, calories, and the clock. The wristband doubles as a USB port, so you can plug the watch directly into your computer to store data and recharge the battery.
While the watch is designed mostly for running, it can also be used to track your bike and swim workouts.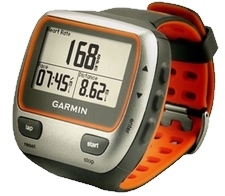 4. Garmin 310XT
$349.99
Schmieg says this is the only watch carried by Potomac River Running that is truly 100 percent waterproof. While Shapiro uses it for running, it can be easily switched from your wrist to your bike with a mount if you're mid-competition. The design is great for triathletes and ultra-marathoners, since it has up to 20 hours of battery life and tracks distance, pace, and heart rate on land. In water, it estimates open-water swim distance and average speed. However, the watch does not record heart rate during a swim.
Ray Maker, a local triathlete who reviews products at dcrainmaker.com, finds it's better to stick the watch in your swim cap while you train instead of wearing it on your wrist. The GPS system will track your route more smoothly.
For more information on sport watches, contact Schmieg at the Reston location of Potomac River Running (703-689-0999).