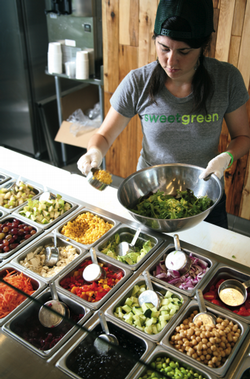 Ann Limpert, food and wine editor
• Matt Selman, executive producer of The Simpsons, talks to LA Weekly about this weekend's much-hyped episode "The Food Wife." In it, Marge and the kids take up food blogging (obviously, "Homer thinks being a foodie is lame"). The whole thing sounds packed with insider-y allusions and cameos—keep your eye out for the José Andrés/Ferran Adrià–inspired character. Q&A With Simpsons Exec Producer Matt Selman: The Food Wife, Food Blogging + Dining at Jitlada With Matt Groening.
• Eater scours the countless Thanksgiving-themed food magazines out on stands—and piled up on my desk— and bestows some awards, such as Poorest Choice of Words in a Recipe Name (Cooking With Paula Deen's cherry-pineapple congealed salad) and Pie Porn of the Year (Martha Stewart Living's pumpkin meringue pie). Turkey Totality: Eater's 2011 Thanksgiving Magazine Smackdown Spectacular.
• Words of wisdom for budding sommeliers. ("A sommelier is still a busser. Or should be.") What I Should Have Known in the Beginning, and Wish I Could Always Remember Now.
Jessica Voelker, online dining editor
• Here's a good life rule: Don't compare people to murderous dictators. They tend to freak out and stop eating at your restaurants. After Chef's Hitler Remark, Bankers Change Lunch Plans.
• On Esquire's Eat Like a Man blog (it's okay to read it if you're a lady), beer writer Evan S. Benn suggests three nonboring brew books. Oxford Companion to Beer, I must have you. The New Beer Bibles a Man Should Read.
• "It has become a street-food world," proclaims Jonathan Gold in his 2011 feature on essential Angelino restaurants. His writing is so evocative and appetizing, I almost want to move to LA. Almost. Jonathan Gold's 99 Essential L.A. Restaurants 2011.
Sophie Gilbert, associate arts editor:
• This is totally how everyone should do dishes. Awesome Kid Caught Doing Dishes While Dancing To "Smooth Criminal." (VIDEO)
• Until I learn not to spill, drop things, or splatter while cooking, I will keep my iPhone/iPad as far away from the kitchen as possible. So hopefully the answer to the question posed in this New York Times story is "No." Are Cookbooks Obsolete?
• Hard to believe, but eating roadkill is apparently trending right now. Roadkill Roundup: How Americans Eat What They Hit.
• And the Post's Jane Black talks to the Sweetgreen founders about how to keep things local and sustainable when your stores require 30,000 pounds of lettuce a month. Sweetgreen, growing yet committed to local sourcing.
Anna Spiegel, assistant food and wine editor:
• Ruth Reichl, former Gourmet editor and food writer extraordinaire, tells New York magazine that she enjoys raw scallops for breakfast and self-medicates with Pappy Van Winkle bourbon. Ruth Reichl Has a Recurring Nightmare About Becoming a Bag Lady.
• McSweeney's has an entertaining chronicle of recently released edibles tested by various writers. Wonder what Pringles Xtreme Screamin' Dill Pickle chips taste like? Here you go. Reviews of New Food: The Ninth Batch 2011.