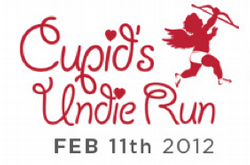 Registration for the 2012 Cupid's Undie Run in DC is now open.

The popular 1.1-mile race encourages everyone to run in their "bedroom best" to raise money for the Children's Tumor Foundation. This is how the day typically goes: Strip down to your skivvies, down a few drinks at the Pour House, run up to the US Capitol, and then head back to the bar for more Valentine's Day weekend festivities.
It's by far one of the most entertaining spectacles to take place in the nation's capital—and it's all for a good cause. Last year's run raised more than $50,000 for the Children's Tumor Foundation.

Not in town for the February 12 race? For the first time, the run will also take place in Atlanta, New York, Cincinnati, Denver, and Seattle. Click here to register.

Once you sign up, you'll have your own personal fundraising page where your family and friends can also donate to the cause.

Watch a video of last year's race here.