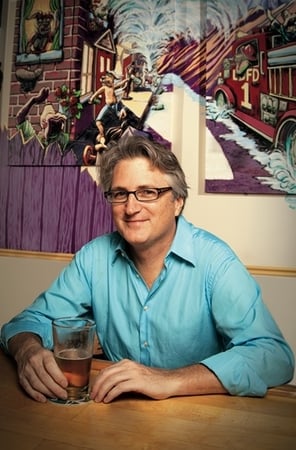 4301 N. Fairfax Dr.; 703-465-8800
Willow Restaurant in Ballston is casual, and yet the service is so good. The seafood is excellent—I always find myself getting some kind of fish. It also has a nice bar area.

2310 Columbia Pike; 703-920-6103
The great Saturday-morning hangover breakfast is at Bob & Edith's Diner. You can get breakfast 24 hours a day. It's very old-fashioned, with booths and neon signs.

3471 Washington Blvd.; 703-528-9663
Rocklands in Clarendon is a quick place to get great barbecue. You can sit outside if the weather's nice. I love their corn salad.
2800 S. Randolph St., Suite 110-A; 703-379-4444
There's a great store in Shirlington called Le Village Marché. It's a paper store, but it has a little bit of everything—specialty items like books and soaps from France.
5876 Washington Blvd., 703-237-1552; 2920 Columbia Pike, 703-553-7770
The Lost Dog Cafe is a great pizza-and-sandwich place. A portion of the profits go to help find homes for lost dogs. They have more than 100 different types of beer, too.

4000 Campbell Ave.; 703-931-0777
Whenever we have Broadway or other famous folks visiting us at Signature, we take them to Carlyle in Shirlington. It's American cuisine with steaks and salmon and pork chops.
3211 Wilson Blvd.; 703-465-0145
Northside Social, a coffee shop, is a terrific place to work. I often meet colleagues who live in Arlington for coffee or lunch there.
2447 N. Harrison St.; 703-300-9467
My kids really like Elevation Burger. It's a grass-fed-burger place, much healthier than normal fast food. Whenever we go, my kids see their friends, so it's clearly become a big hangout for families with children.

627 N. Glebe Rd.; 571-224-0555
Kettler Capitals Iceplex in Ballston is an incredible resource with a really great second-floor viewing space where you can watch the ice. My son has been playing ice hockey for a couple of years. I've started to play as well—they have adult classes and a women's league.

923 N. Kenmore St.; 703-522-1995
Capital Cat Clinic, in an old home, is just wonderful. The feel is very homey, and they've got a couple of resident cats, so there are other cats around while you're waiting.
3805 Lee Hwy.; 703-527-2100
Right around the corner from us is a little store called Cherrydale Hardware. They always have four or five people standing there who are so polite and helpful. Even if all you want is a single screw, they'll take you back to the drawers and find it for you.
3123 Lee Hwy.; 703-528-6266
Whenever I get a craving for an Italian sub or hoagie, I'll wander down to the Italian Store. It takes me back to when I was growing up and would visit Philadelphia. All the meats are just as good—the capicola, the soppresatta. It's a great sandwich.
4792 Lee Hwy.; 703-243-8010
After work, I like to go down to Cowboy Cafe with all the kitchen guys. They have the coldest Miller High Life I have ever had. It's a really intimate space and sometimes has live music.
3207 Washington Blvd.; 703-812-0939
There's always O'Sullivan's, next door to my restaurant, which we find ourselves going to a lot for a proper pour of Guinness.

This article appears in the November 2011 issue of The Washingtonian.