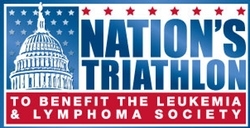 General registration for the Nation's Triathlon on September 9, 2012 opens tomorrow, December 1, at 9 AM.
The popular race has sold out the past five years, so be sure to sign up as soon as possible. Prices are as follows:
$190 for the triathlon.
$190 for the Aquavelo, which includes just the swimming and bike portion of the race.
$290 for the relay, where you can compete as a team of two or three athletes. Coed teams are accepted. Each athlete will do one leg of the race.
Athletes should be aware that there are no refunds, unless you become ill or injured and can't start the race. You must be 18 or older to compete. Funds raised will benefit the Leukemia Lymphoma Society. Click here to register.