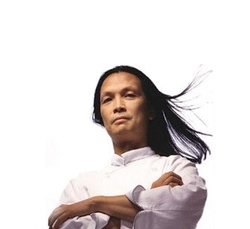 When he wants to get away from it all, celebrity chef Susur Lee of Zentan heads to New Big Wong in Chinatown.
"Normally it takes me two hours to eat lunch there. It's my little escape from the world" said Lee, dressed in a crisp, short-sleeved chef's jacket, his signature black tresses pulled back in a tight ponytail. Sitting in a corner booth at Zentan, the chef seemed relaxed despite a recent jet set through New York, Malaysia, and his adopted homeland, Toronto, where he owns two restaurants (he is originally from Hong Kong).
Lee loves Big Wong's Cantonese food, the cuisine he grew up with, especially the thin-sliced conch with garlic chives and chilies, chicken consommé with tofu and watercress, and steamed frog legs in black bean sauce. He divulged some of his other preferences in our Either/Or questionnaire, including details on his favorite burger creation (it involves McDonald's fish and beef patties), an early job with a mobster, and his take on DC critics.
Poutine or jumbo slice?
Poutine, of course! What is a jumbo slice? [It's a giant piece of pizza.] Well, I'd rather have the greasy potatoes. At least it's a little natural that way.
Pig feet or chicken feet?
Did I tell you I did the Top Chef judging about chicken feet in Chinatown? So yes, chicken feet. I know my chicken feet. I love steaming them a long, long time. They get really succulent and compress all the fat, and just the gelatin and the texture is left. It's very therapeutic for me. It slows you down to eat them—it's not like you just put a big chunk in your mouth and chew and swallow and you're ready to go.
Shake Shack or Five Guys?
I like the Shake Shack burger. Some people like burgers really sloppy, and some people like them very clean. Shake Shack is one of the burgers that keeps your hands and face clean, and it tastes very good. And they blanch the onions, which I like.
Well, then, a Shack Shack burger or your own creation?
I did one burger at the airport in DC. I got a McDonald's Filet-o-Fish and a meat burger and smacked them together and took one of the buns out—that was one of the best burgers I've ever had! So my creation, absolutely. You should try that!
Whetstone or steel?
Stone, absolutely. Stone is the only way to make a knife sharp. If you have a good steel knife, you can't use another steel to sharpen a knife.
Yelpers or critics?
I do like the writing of food critics, because I learn from their words, sometimes even with my own cooking. When I started with my own food 19 years ago, I didn't even know the word "fusion." That was a word I learned from a food writer.
This is a biased question, but Todd Kliman or Tom Sietsema?
Who are they? [Tom is the critic for the Post, and Todd is The Washingtonian's critic.] Oh, Tom! Oh, yes, of course, I met with him! [Laughs] Oh no, who are you working for?
Blow-dry or natural dry?
I like the natural dry.
Korean fried chicken or Kentucky Fried Chicken?
May I tell you a story of why I like KFC? The first time I came to Canada, I was looking for a job and arrived early. It was cold, and I was hungry. At that time, you could get a lunchbox of KFC, and that was the best chicken. I was starving, and I said, "Oh, my God, this is so good." I got the job, and I was working in a club making breakfast after 2 AM. That was pretty wild. It was owned by an Israeli hitman, and he used to come in the kitchen with his guns, like, "Look at my gun, which one do you like?" He would hang people upside down in the building. It was pretty hardcore.
Biking or driving?
Biking, definitely. I hate driving.
Sous chef for the day: Paula Deen or Rachael Ray?
Who is Paula Deen? Oh, the lady with the white, short hair! She taaalks reeeeally sloooow. Is that her? So her or Rachael Ray? I think I like the Southerner. I find her cultural background interesting, and she's a very solid cook, too. I mean, she's very robust and doesn't care about fat or butter, duck fat or chicken fat. I love that!
Big plates or small plates?
I like small sharing plates. I think it's intimate and friendly, and there's more variety.
Locavore or omnivore?
I like to eat globally.
Tattoos or un-inked?
No tattoos. Back in Hong Kong, the belief is that the inner self is represented through the outer self. People don't have to know when they just look at you. Plus there's a stigma with tattoos—you're a bad person, or not sure who you are. My son has tattoos all over himself, and I let him, because that's his generation. But for me, I'm a little old-school.