The Four Seasons "power breakfast," the last for a while at Seasons, on Friday, December 16. Photographs by Carol Ross Joynt
Washington's most power-heavy power breakfast will be relocating for a while as the Four Seasons Hotel begins a $1 million top-to-bottom renovation of its Seasons restaurant. Friday was the last day for breakfast in the old room, and reliably it drew some notables: Carlyle Group's David Rubenstein, political strategist Mark Penn, and United Arab Emirates Ambassador Yousef Al Otaiba, among others.
During the renovation, which is expected to be completed by February 1, breakfast (and brunch) will be served at the hotel's other restaurant, Bourbon Steak. When Seasons reopens, the new design will match the hotel's sleek lobby, but the private, intimate atmosphere will remain: The white-tableclothed tables will be set well apart (all the better for confidential conversations), and the floor will be carpeted (allowing for whispers). New additions will include a redesigned bar with a "living area" where guests can read the paper, watch TV, and have coffee before taking a table; the room also will be larger, expanding into the space previously allocated to private dining rooms.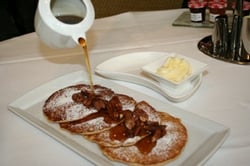 According to Liliana Baldassari, the hotel's public relations director, regulars shouldn't fret about the new look being too radical or robbing any of them of their favorite breakfast tables. For example, Secretary of State Hillary Clinton prefers one of the nooks in the back, where she can see but not be seen. Columnist George Will likes the same table. Vernon Jordan's table is, appropriately, practically in the center of the room. Former senator Arlen Specter, who lives across the street, opts for a table by the large windows overlooking Rock Creek.
"All the people who love it will still love it," says Baldasarri optimistically, adding that the menu will be the same but with some new dishes.
Since Bourbon Steak opened, the only regular meals served at Seasons are breakfast and Sunday brunch. At other times it is leased out for private functions, which will continue after the redesign.