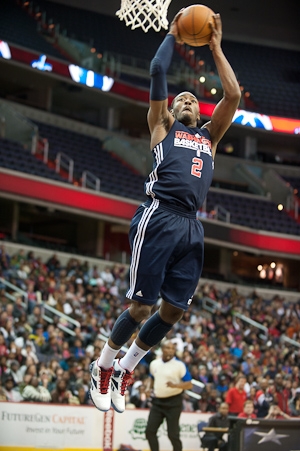 When thousands gathered at Verizon Center for Saturday's Fan Fest, Nick Young was on the other side of the country. His absence was even more conspicuous the night before, as the team stumbled their way through the first of two preseason games. It was immediately apparent to anyone watching: The Wizards were screwed without another reliable shooter.
Two nights later, they had their man back, if only for a little while. Nick Young reluctantly agreed to sign his one-year, $3.7 million qualifying offer after failing to secure an acceptable long-term offer in the abbreviated free-agency period. And thank God for that, because even hot new jerseys and half-smokes couldn't possibly make up for a year of Jordan Crawford in the starting lineup.
For Young, it's not such a bad deal. He was never going to get the $9 million a year deal he was reportedly seeking in the current free-agent climate. Now he'll have a full season to show what he can do before heading for the waters of unrestricted free agency next summer. I still don't think he'll get $9 million, but hey, knock yourself out trying, Nick.
For the Wizards, the deal is a no-brainer. The team's offense was so bad Friday night, you'd have sworn John Beck was prominently involved. Now Young can slide back into the starting lineup, where he offers more consistent shooting, while Crawford can provide much-needed scoring off of the bench. While it's not a long-term solution, general manager Ernie Grunfeld was able to shore up this season's roster without sacrificing future cap space.
As others have noted, a deal like this indicates Young's time in Washington is coming to an end. Almost every player who signs an offer sheet signs elsewhere in the subsequent season, a scenario that's just fine with most Wizards fans. While Young has demonstrated an ability to create his own shot, the rest of his game remains limited. The Wizards of the future will be looking for a more dynamic shooting guard, one that could be found in next year's draft. But before you start imagining a John Wall/Jeremy Lamb backcourt, there's still the small matter of the 2011–2012 season. With Young back in the mix, they could take the step from the low lottery to possible playoff contention.