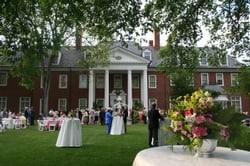 For better or for worse, I was a guest at more than 100 parties in 2011. Here are the top ten standouts:
1) The Washington Winter Show at the Katzen Arts Center (January 6)
An event that pulled together real Washington society—the elder cave dwellers and their younger counterparts—amid interesting (and a few affordable) decorative arts, good music, and good food.
2) The Tudor Place Garden Party (May 4)
It always seems to take place on the prettiest spring evening. Lush food, great drinks, sweeping lawn, beautiful flowers, women in hats, and much camaraderie among Georgetowners young and old. For anyone who wants to mingle with Georgetown, this is the party.
3) The "Wedding Belles" Exhibition Faux Wedding Reception on the Lawn at Hillwood Museum
Caterer Susan Gage re-created a post-wedding lawn party as though it were scripted by Marjorie Merriweather Post herself, including a many-tiered wedding cake. On a beautiful, softly warm evening, guests got to sip, dine, and tour the gardens and the mansion.
4) David and Katherine Bradley's Pre-Party for the White House Correspondents' Association Dinner (April 30)
Essentially every party the Bradleys host is a winner. They have that gift. But they throw a doozy of a true foodie dinner the eve of the WHCA bash. The exclusive guest list is "A" all the way: corporate, political, media, social, and some Hollywood.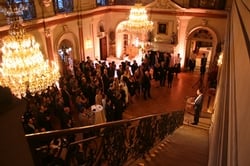 5) A Party for Renée Fleming (January 18)
If Washington has a varsity-rank hostess, it is Bonnie McElveen-Hunter. A memorable evening at her Washington home was a private buffet for Renée Fleming following the diva's recital at the Kennedy Center, on behalf of the Washington Performing Arts Society. The party included a surprise rendition of "Happy Birthday" for cohost Lucky Roosevelt.
6) The Capital Club Sinatra Soirée at the National Building Museum (July 14)
While on the one hand it was an invasion of the madras jacket and stiletto brigade, it was also an interesting gathering of twentysomething socials; exuberant fun, much dancing, all to the tunes of the late, great Ol' Blue Eyes.
7) The Financial Times Party to Welcome New Washington Bureau Chief Richard McGregor (April 14)
Editor Lionel Barber flew in from London. US editor Gillian Tett came down from NYC. The setting, the Society of the Cincinnati's Anderson House, was gorgeous. Guests were treated to a full bar, including Moët Champagne, plus lobster rolls and tenderloin. The guest list was heavy on print media. Charming, and amusing that the Brits would have a party in a building that celebrates the American Revolution.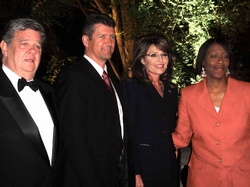 8) David Dunn/Amy Bondurant Party for CNN Senior European Correspondent Jim Bittermann (April 8)
This was Hollywood's idea of a private Georgetown party—candlelit, with Champagne, homemade canapés with a Southern flare, White House and National Security staff, some society types, some media, and an actual English lord.
9) The Alvin Ailey Gala at the Kennedy Center (February 1)
An incredible show onstage, followed by the city's biggest annual dance party spanning the full rooftop atrium. The party band was outstanding; no one sat. It was a welcomed, happy celebration at a time when it felt like winter would never end.
10) The Post-WHCA Dinner Vanity Fair/Bloomberg Party in Kalorama (April 30)
This year the list was beginning to erode, but one cozy Washington party still had guests so diverse they ranged from the cast of Saturday Night Live to quarterback Tony Romo to Alaska's own Sarah Palin, plus dozens more boldface names who are rarely seen in the Capital.