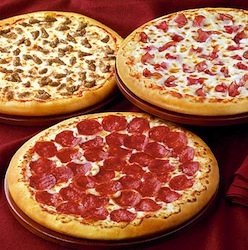 Todd Kliman, food and wine editor
• The Economist takes a fascinating look at the Cairo cafe that abetted the revolutionaries who toppled Hosni Mubarak. Turns out the belle époque restaurant has enjoyed a long history as a political symbol and activist redoubt: King Farouk sought to distance himself from cries of corruption and establish his populist bona fides by announcing that he met his commoner wife there, while a generation later Colonel Nasser "plotted his coup over cardamom-scented coffee." A Riche History
• Big Oil, Big Agriculture . . . Big Pizza? Men's Health says the multinational takeout pizza joints are hurting the planet. The Domino's Effect
• Kim Jong Il may have been a petty and vindictive tyrant, but the North Korean leader, who died last weekend, has at least one thing in common with Thomas Jefferson, his philosophical opposite: The guy loved wine, and was a voracious collector. (For the sake of dictatorial comparison, Saddam Hussein was apparently as cultivated as he was empathetic: Mateus Rose—a $5 Portuguese sparkler—was his house wine.) The Bed Head is Dead, and the Fine Wine Market Has Evidently Lost a Major Buyer
Jessica Voelker, online dining editor
• I guess this means I should stop binging on Real Housewives recaps: On WAMU this week, Kojo Nnamdi interviewed local author Clay Johnson, who, in his new book, Information Diet: A Case for Conscious Consumption, posits that the evolution of information consumption will follow the evolution of how we consume food. Just as a few hundred years ago, humans stopped eating everything we could get our hands on in order to make it through winter, we will begin to select for ourselves a diet of information that nourishes our brains. Information Diet for the New Year
• In the January GQ: a look at new cocktail innovations at top restaurants, where chefs and bartenders are taking the drink lists beyond the classics by incorporating ingredients and techniques from the kitchen. Alexandria speakeasy-style lounge PX gets a shoutout for "a cocktail menu that reads like a farmers'-market shopping list." Local pride aside, I think my favorite bit was a sidebar zinging bartenders for overzealously old-timey attire. Arm garters? "Just roll up your sleeves and be done with it." The Chef Is Pouring
• The LA Times reports massive waste and an emerging junk-food black mart at schools that have incorporated healthy—but unappetizing—school lunch programs. Among the criticisms from students: moldy noodles, salads served past their expiration date, and watery pozole. Watery pozole? I'd be buying Twinkies on the down-low too. LA schools' healthful lunch menu panned by students

Sophie Gilbert, associate arts editor
• The latest addition to the board of the Foundation of the National Archives is . . . restaurateur José Andrés. Andrés apparently helped the foundation with its big fall exhibition, "What's Cooking, Uncle Sam?," which explored food in American culture. Acclaimed DC chef an unlikely addition to National Archives Foundation board
• The University of Michigan's latest study proves definitely what common sense could probably tell you (as long as you're not a politician, that is): There's a direct correlation between free enterprise and obesity. Countries with less regulation and less-restrictive trade policies (such as the US) have way more fast food restaurants and obese citizens than countries such as Japan and Norway. Supersized Market Economy, Supersized Belly

• And finally, on behalf of my people, a recipe for English trifle, perfect for the holidays. You're welcome. How to Make Perfect Trifle
Anna Spiegel, assistant food and wine editor
• Even if you're tired of looking at holiday-inspired recipes, the short 'n' sweet stories that accompany the New York Times food writers' recollections are worth a read on their own: The gifts? I forget. But the meal!
• Good to know that the golden mean for Olive Garden recipes is "really rustic, but still kind of normal." More fun facts of menu planning at big chains via the Wall Street Journal. Waiter, I'll Have the Crowd-Pleaser
• And let's hope the chains listen to this: Upright Citizens Brigade's "cheese-on-queso-on-fromage" lineup. Who wants ice cream when you can have cream cheese?!