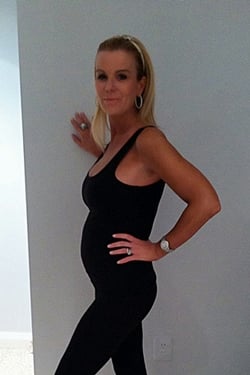 Are the days of quietly announcing one's pregnancy a thing of the past? Beyoncé revealed hers to the masses in August on the red carpet and then the stage of the MTV Music Video Awards. This week, Washingtonian Susanna Quinn announced her pregnancy on Facebook, with a photo and this simple message: "Jack Quinn and I have some news." Very soon after, she had 91 "likes" and 82 comments.
Why did she choose Facebook? "I guess, honestly, because my friends and family—I mean, every one—are on Facebook. It was a fast way to spread the happy news," she says. Also, the other night someone said to me that I didn't look pregnant, only like I'd been eating too much over the holidays. I didn't want people to think I was just getting fat."
Susanna and her Jack­—who is the cofounder and chairman of lobbying firm Quinn Gillespie & Associates, and served as White House counsel during the Clinton administration—are a well-known couple on the Washington social and benefit circuit.
They may have to cut back a little on the out-and-about now. Susanna, who is 42 years old, says in the first few months of the pregnancy, she "could have fallen asleep standing up." Now she's back to power walking and working out. The baby is due in June. Susanna has one child, age 12, from a previous marriage; Jack, who is 62, has four, the oldest of whom is 38.
Before the Facebook announcement, the Quinns did tell a few close friends, including House minority whip Steny Hoyer. "He said we all had our children when we were so young and busy trying to make it in our careers, but this is so great because now we have time," Susanna explains. She says she's excited but laid back about the pregnancy. And her husband? "Jack is going to every doctor's appointment. He's talking to the baby."