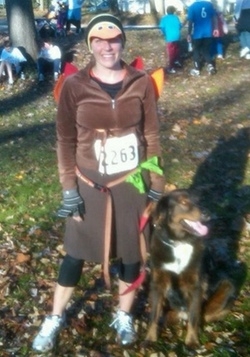 Arlingtonians, County Board candidate Kim Klingler wants to hear your thoughts—if you can keep up with her.
The certified personal trainer has scheduled a series of open runs for anyone who's interested in learning more about her, ARLnow reported. The first run will be tomorrow at 7:30 AM from Ballston to Rosslyn.
But why not just knock on doors? "I think with the increasing epidemic of childhood and other forms of obesity, exercise is just incredibly important," Klingler says. "Plus, it's all about getting out and meeting your neighbors."
The former gymnast admits she never enjoyed running while growing up. But two years after a scary rock-climbing accident, she started actively running and has since completed three ten-milers and is hoping to run a half marathon soon.
Four more runs will take place around Arlington before the Democratic caucus on January 19. Each run will be two to five miles. Runners and walkers of all paces are encouraged to come and discuss their thoughts about what improvements can be made to the county.
Thursday, January 5, 7:30 AM
Ballston to Rosslyn
Meet at Ballston Cosi (4250 Fairfax Dr., Arlington)
Saturday, January 7, 8 AM
Columbia Pike
Meet at Columbia Pike Branch Library (816 S. Walter Reed Dr., Arlington)
Wednesday, January 11, 7 AM
Dominion Hills
Meet at Dominion Hills Park (1060 N. Liberty St., Arlington)
Friday, January 13, 8 AM
Nauck
Meet at Jennie Dean Park (3630 27th St. S., Arlington)
Monday, January 16, 7 AM
Donaldson Run
Meet at Marcey Road Park (2722 Marcey Rd., Arlington)