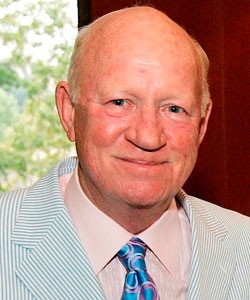 On Monday, DC mayor Vincent Gray and other city officials will be on hand for a breakfast-time ribbon cutting at the Hamilton, the ambitious new enterprise from Clyde's Restaurant Group. It's at 14th and F streets, around the corner from the company's Old Ebbitt Grill. If Old Ebbitt is Clyde's on steroids, then the Hamilton is Old Ebbitt on steroids. For one thing, the ceilings are twice as high. It has five bars, five dining rooms, and a live music venue—and it's open 24 hours, every day of the week.
There are menus for breakfast, lunch, and dinner, and the "after-midnight" menu, in addition to an assortment of burgers, offers intriguing and diverse options such as roasted bone marrow, Baja fish tacos, the "big hot weiner," chicken and biscuits, bacon chocolate chip pancakes, ramen, eggs Hamilton, and, for those in need (or for the hours without alcohol service), milkshakes.
John Laytham is the CEO of Clyde's Restaurant Group, and has been its design and expansion visionary for more than 30 years. He became partners with founder Stuart Davidson back when there was only one Clyde's, the original in Georgetown. We caught up with him to talk about the past, present, and future of the restaurant group.
When did the first Clyde's in Georgetown open?
August of 1963.
When did you first begin working there?
April 1964. I was a freshman at Georgetown University in the foreign service school. I started out doing dishes for the first two or three weeks. It was my way to make money to pay for dates on the weekends. Then I was a busboy, a waiter, and a bartender within the year. I became a bartender because I talked the general manager into letting me open on Sundays for brunch. It was 1965 or '66, and no one had ever heard of being open on a Sunday. At first I had to work in the kitchen, but after two weeks I got behind the bar. Pretty quickly it was the busiest day of the week in the restaurant.
Did you find time to graduate from Georgetown?
No. I still have 30 credits left if I ever want my degree.
When did you first start running the restaurant?
The general manager left in 1968, and I was offered the job. I was 22 years old.
Tell me a bit about Stuart Davidson (who died in 2001 at the age of 78).
I was sort of a kid when I first met him. He was 42. My father died when I was really young, so Stuart was the oldest person that I had a relationship with. He was an incredible man. He had knowledge of just about everything, but he also had his crazy times. He was very, very good to me. He always gave me a tremendous amount of freedom in designing the restaurants with him. We were partners for 30 years, and we had a really good relationship over those years.
When Stuart made you a partner, what percentage of the business did he give you?
Twenty percent.
What made that happen?
The year I started as general manager, 1968, the restaurant had done $250,000. After my first two years it was doing more than $1 million in sales, and that was in 1970 when hamburgers were 85 cents and beers were 85 cents. So the place was pretty busy.
What was your first expansion?
The Old Ebbitt Grill. Stuart and I did it together. We went to the auction [of the original Old Ebbitt], and they auctioned off everything piece by piece, but in the end it didn't cover the lien, so they decided to auction off everything as a whole. We paid $10,000 for all the fixtures, bars, chandeliers, artwork, and other stuff. We moved it around the corner. Oliver Carr offered us the RKO Theater space. It was a fair deal. We spent $4.4 million building Old Ebbitt in 1983. Seemed like a lot of money at the time. Today it's the third- or fourth-highest-grossing restaurant in the country. It will do $26 million in sales in 2012. The Ebbitt turns away 800 to 900 customers a day, and has consistently.
In the years since, at what rate has Clyde's Restaurant Group opened new restaurants?
Every few years. We're up to 14 now. Sometimes [the openings have] been closer together and other times further apart. In the past ten years we've done four major projects: Tower Oaks Lodge [Rockville, MD], Clyde's of Gallery Place [downtown], Willow Creek Farm [Broadlands, VA], and the Hamilton.
So why a place like the Hamilton, and why now?
We felt the space for the Hamilton was a compelling piece of property. We think downtown is doing very well. We have a 40-year lease. Our rent is $20 a square foot and will go to $29 in 40 years. It cost $24 million to build. We've made a major long-term financial commitment. The city gave us almost $5 million in TIF [Tax Incentive Financing], which lowered our costs. And it's great for the city. The space was in danger of becoming a TJ Maxx, which would never have done the sales this restaurant will do. We employ 335 people, and we'll pay $2.5 million in sales tax the first year. It's a fabulous deal in the long run.
But what about competing with yourself around the corner?
Our sales at Old Ebbitt go up year after year. I'd just as soon compete with myself as have somebody else compete with me. Since we have been open at the Hamilton, sales have been up at Old Ebbitt. We tried to make the Hamilton different—still comfortable and value-oriented, but slightly more sophisticated.
What gave you the idea that there was a market for a 24-hour restaurant in Washington?
That was the idea of [Clyde's Restaurant Group president] Tom Meyer. He felt there was no place to go late night to get a decent meal in a comfortable environment. He wanted to try it. Right now is a quiet time of year, but it's actually done a bit of business after 3 o'clock in the morning. There have been occasions when we've had 75 people there at that hour. Besides, all the hotels close their kitchens early, and a lot of people get off work late.
Will the live music downstairs be 24 hours, too?
No, no, no. The downstairs will be open to the public just at night. I hope, too, that we book a lot of events down there. Our first big act was Mavis Staples.
Do you handle the entertainment booking?
No. It's not what Tom and I know. We use a company from Austin, Texas.
What else does Clyde's Restaurant Group have in the pipeline right now?
We're going to take a little time and digest doing the Hamilton. It is by far the largest restaurant we've ever opened—37,500 square feet.
Are you concerned about opening such a big restaurant in today's business climate?
We've always tried to make every one of our deals be something that made sense. When we did Tower Oaks they gave us the land free and they built the infrastructure. So we have no rent there forever. We did the same thing at Willow Creek with another developer. I don't think anyone can say they didn't feel a hit from the recession. We saw sales drop in 2008 and 2009. But we didn't have to lay off a single employee during the whole recession, and we're back to at least where we were in 2007.
Do you have a favorite restaurant in the group?
I still love Clyde's in Georgetown, and I still like having a good cheeseburger, but I love all of them. There were times in my life when I spent a lot of time overseeing the design of these restaurants, and we've always tried to make them look a little different. None is stamped out, and we try to make them have something to do with the community they are in.
You have an iconic place in Georgetown that sits empty except for private events, F. Scott's. Would you ever consider reopening it?
We think about it once in a while. I know it's a great period piece, and it still looks great inside. We think about it, and it wouldn't cost a lot. Probably a million dollars at the most.
What about rumors that the Clyde's Group is quietly for sale? Is it, or was it at one point?
No.
How much longer do you plan to be at the helm?
I'm 67. Sally Davidson [Stuart's widow, who owns 65 percent of the company] is 67. I just made Tom Meyer president. He is something like 52. I'm really very pleased with the way the company is running, and I'm working with people I've worked with for 20 years. Great young people, great young people. However, if the Davidsons ever wanted to do something, that would be their decision.