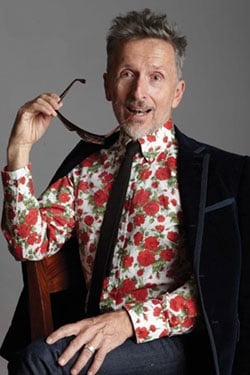 Simon Doonan is a clever man. He could be a standup comedian. He's also a stylish man. He could tell us all a thing or two about how to dress. He's also an extravagantly out gay man, proud as punch of his lifestyle, but wonders, "Why do hetero males get to be the dominant force in our culture? Why do they get to drive the bus, while we gays, riding in the back, are so much more fabulous?"
He poses those questions in his new book, his fifth, with the provocative title Gay Men Don't Get Fat. Actually, every page is loaded with provocation, because that's Doonan's method of ingratiating himself with readers. It's a style that is both laugh-out-loud funny and irresistible. Like a highly caloric slice of cake, the book can be devoured in one sitting.
Doonan, born in England but now an American citizen, is best known as the creative director of Barneys New York, where, among other trendsetting tasks, he designs the stunning window displays. Interestingly, in the book he refers to himself as a "window dresser," but when called that in an interview he shot back, "Well, you know, over the past 27 years at Barneys I've been involved in all aspects of marketing, and it goes way beyond windows. My job is to make products seem irresistible, to appear intriguing and enticing."
That's how he caught the attention of former White House social secretary Desiree Rogers and ended up at 1600 Pennsylvania Avenue managing the decorations for President and Mrs. Obama's first Christmas in the residence. In the book, he writes, "Mr. Gay goes to Washington." But in conversation his tone is more serious.
"Desiree called and said she was familiar with work I'd done at Barneys in Chicago and New York and would I like to get involved," he says. "We talked about doing decor that involved recycling and children's art. We were very much on the same page from the word 'go.'"
Doonan says that as a new American citizen he was delighted and humbled throughout the project, which took nine months from that first conversation with Rogers to the December 2009 unveiling in the public rooms of the White House. "Obviously, being an immigrant who came to this country in the '70s, and then finding myself decorating the White House—it was incredible. I was the First Elf."
The process was full of memorable experiences for him, including being introduced to the First Lady. "I've met lots of A-list people," Doonan says, and it's true; name a diva and it's likely he's worked with her before. "I generally find those encounters with super-famous people to be nerve-wracking. But Mrs. Obama has a magical presence, and I immediately felt relaxed. We had very creative meetings. If you look at pictures of the White House that year, I can't remember it ever looking better."
Also memorable were the places he got to go that the rest of us can't. For example, the White House warehouse. "It was a treasure trove," he says. "It was one of the most memorable aspects of the experience. All the holiday decorations are stored there, going back generations. Jackie Kennedy, Betty Ford, Rosalynn Carter, Nancy Reagan. It was a history of White House holidays."
Doonan recycled many of the old ornaments for the Obama decorations. "It was in this Aladdin's cave of vintage szhoosh that I came upon a vast quantity of large, shiny plastic balls," he writes in the book. "They resembled something that might dangle from the ceiling of a seventies gay bar or a doomed shopping mall." He says he grabbed all 800 of them. Eventually they were sent around the country to be decorated at community centers with the theme of "great American monuments," and were then returned to the White House and hung on the tree in the Blue Room.
The job allowed Doonan the opportunity to spend hours in the historic rooms of the White House. "Now when I see press conferences on television, I know every ledge, every mantelpiece." He says it left him with a "much better sense of American history. The Americanization of me."
However, it wasn't all happy time. Here he was, working his tail off, eager for the big unveiling and some of the reflected glory of a job well done. And then the Salahis happened. In November of that year, Michaele and Tareq Salahi crashed the Obamas' first State Dinner, causing a media storm, and the behind-the-scenes went all topsy-turvy. In the book, Doonan writes: "Inside the White House, I detect an entirely different mood. It is immediately clear that all and any foofy, poofy Elf publicity has been nixed. . . . Thanks to those idiot Salahis, security is as tight as an elf's xxxx-xxxx."
Today Doonan is reflective and realistic about the episode. "The Salahis rained on my parade," he says. "There was just a general sense that anything that would infringe on the gravitas and the appropriateness of the White House was going to be a problem. A lot of people still don't know I was involved, but I think my retelling in the book is respectful." He's right it is—but it's also very funny.
We couldn't have a conversation with a famous fashion expert without bringing up the matter of Washington style. Doonan knows it's a sensitive subject in the capital. "I find that women in Washington are very self-critical," he says. "But I go there and see chicks wearing all kinds of groovy things. People in Washington are selling themselves a bit short."
Maybe so, but how do we take some of his so-called "nuances and nuggets of gay life" and apply them to how we dress? He laughs. "Women who work in Washington can't go around dressed like Lady Gaga. If you are performing a medical procedure you don't wear a leopard jumpsuit. If you need credibility, tone down the flamboyance. But that doesn't mean you can't go crazy on weekends."
Doonan will be in Washington on Wednesday, February 1, for a public book sale and signing at the W Hotel, beginning at 7 PM. While here, he also hopes to take in some of the sights. "I've never gotten to do any of the touristy things," he says. "The Smithsonian, the Capitol. I want to be a tourist for two days. So I'll put on my Rollerblades and go!"