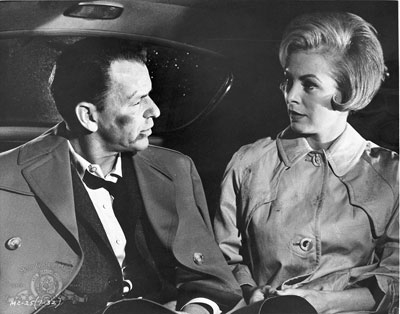 In February and March, the election season kicks into high gear, with 26 presidential primaries or caucuses, including Virginia's—but it seems as if the 2012 election has been under way forever.
What's the antidote to an overdose of political reality? How about some of Hollywood's finest election-themed films? Pop the popcorn and enjoy the rides. Here are ten worth watching.
The Manchurian Candidate (1962). Only the original will do. Starring Frank Sinatra, Laurence Harvey, and Angela Lansbury, it's a satire of campaigns and political marriages, with brainwashing and anti-Communism as the spice—not to mention the McCarthy era, vague recollections of failed presidential contender Richard Nixon, and Cold War paranoia.
The Candidate (1972). With Robert Redford as handsome, wry, and wet-behind-the-ears Senate candidate Bill McKay of California—a morph of Jerry Brown and Gary Hart—the film feels contemporary and perceptive after all these years. Peter Boyle's performance forecast the modern campaign manager as visionary and mercenary.

Bob Roberts (1992). This mockumentary stars passionate liberal Tim Robbins (also screenwriter and director) as a corrupt singer running in Pennsylvania as a right-wing Senate candidate. A primer on heartless politics and manipulating the media. See the movie's trailer to the right.
The Distinguished Gentleman (1992). This takes on new interest in light of star Eddie Murphy's recently announced casting as Marion Barry in an HBO film. The Distinguished Gentleman isn't a critics' favorite, but it's Eddie Murphy, playing a con man who runs for a congressional seat from Florida and wins.
Wag the Dog (1997). Suppose your candidate, the President, finds himself in a sex scandal during a reelection bid. Do you distract attention? How about concocting a fake war? Robert De Niro is the spin doctor (think Mark Penn), Dustin Hoffman the movie producer (think Robert Evans) who creates the war.
Bulworth (1998). Just the ticket for those who like their political satire raw. It's laugh-out-loud funny, with Warren Beatty as Senator Jay Billington Bulworth. He raps, he boogies with Halle Berry, and, with a self-imposed death sentence, he unloads scathing political truths. Imagine if Mitt Romney went gangsta.
Primary Colors (1998). The movie's even better than the book, with John Travolta as a believable version of Bill Clinton and Emma Thompson doing a take on Hillary, and it has improved with age. Good behind-the-scenes glimpses of a presidential campaign, and the political details and marital dynamics are rich, transcending the scandal parts, which are sort of been there, done that.
Election (1999). A high-school election, with blond, overbearing, and seemingly unbeatable Tracy Flick (Reese Witherspoon) challenged by popular jock Paul Metzler (Chris Klein). Hell breaks loose. The movie put Witherspoon on the map. Matthew Broderick is the teacher and election supervisor who's loath to see Tracy win.
Milk (2008). This true story traces the journey of Harvey Milk from San Francisco activist to political candidate to city-council member—and California's first openly gay elected official, assassinated in his prime. See the movie's trailer to the right.
Recount (2008). Probably Al Gore's least favorite film, this gripping HBO production retells the aftermath of the 2000 presidential election, when the outcome was thrown up in the air by a murky vote count in Florida and the Supreme Court decided the result. The perfect flick for Washington wonks and campaign pros.
This article appears in the February 2012 issue of The Washingtonian.