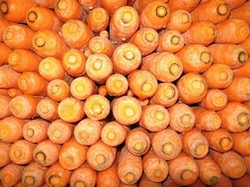 To keep skin looking dewy and youthful, many of us search the drugstore shelves for the next miracle lotion to slather on our faces. But what if you could improve the look and health of your skin by going to the produce aisle instead? While there's no one miracle food that will give you gorgeous skin, eating certain nutrient-rich foods may help give you that extra glow, says Dr. Howard Brooks, medical director at SKIN Cosmetic Dermatology of Georgetown. Read on for local experts' top five complexion-perfecting foods.
CARROTS
Carrots are rich in beta carotene, which is converted into vitamin A in the body. This boosts collagen production while reducing pore size, fine lines, and wrinkles. It "gives you that glow," explains Brooks. The antioxidant properties in carrots also help protect skin from sun damage, secondhand smoke, and other pollutants, he adds.
Also try: kale
YOGURT
Yogurt is packed with vitamins A and D, says Dr. Yolanda Holmes of Washington DC Dermatology. Vitamin A is particularly beneficial in fighting the signs of aging, since it helps repair and maintain skin. Don't care for the taste of yogurt but still want a soft, smooth complexion? Try putting it directly onto your skin as a topical treatment. The lactic acid and enzymes found in yogurt will remove dead skin cells and leave skin feeling refreshed and moisturized.
Also try: avocado
SALMON
If you want smooth, soft skin, eat salmon. It "contains essential fatty acids that are essential to keeping skin young and beautiful," says Holmes. The omega-3 fatty acids found in salmon fight free radicals in the body, reduce inflammation, and prevent collagen breakdown, which delays the formation of fine lines and wrinkles—no needles required.
Also try: Find four other great sources of omega-3s here.
TOMATOES
Like yogurt, tomatoes provide skin-healthy vitamin A, but they also contain vitamin C, which is vital for skin health, Holmes says. Vitamin C reduces the effects of sun damage on the skin and promotes tissue repair. Plus, adds local nutritionist Rebecca Scritchfield, vitamin C boosts the production of collagen, which keeps skin supple and youthful.
Also try: red pepper, citrus fruits
BLACKBERRIES
Holmes recommends these tart, phytochemical-packed berries because they are full of antioxidants, which help detoxify the body of harmful, cell-damaging free radicals. Protecting cells from damage, in turn, reduces the signs of premature aging. Blackberries are also loaded with skin-healthy vitamin C.
Also try: blueberries, strawberries, plums