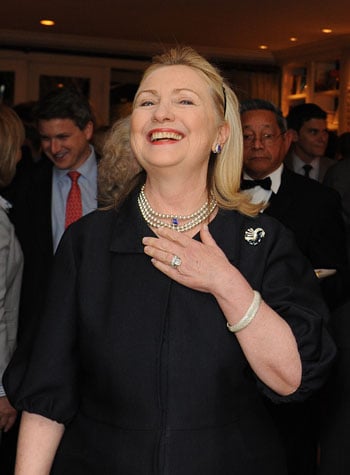 You may think it's only the season of sun, which is true, but it's also the season of the list. Time magazine has come out with its annual roundup of the 100 most influential people in the world, with some surprising results for Washington; there's about a dozen or more party invite lists banging around town in advance of the White House Correspondents' Association dinner; and then, not to be forgotten, there's Jeopardy's list of so-called "power players" who will compete in shows to be taped this weekend at Constitution Hall.
Time's 2012 list has seven Washington notables, versus nine who made the ranks last year. This year's influentials are Senator Marco Rubio, the Florida Republican who has been floated as a possible running mate for GOP presidential frontrunner Mitt Romney; Supreme Court Justice Anthony Kennedy, whose votes swing between the liberal and conservative factions of the court; José Andrés, the innovative chef and culinary entrepreneur; President Barack Obama, for reasons that shouldn't need explaining; Walter Isaacson, author of the best-selling biography of Steve Jobs; Representative Ron Paul of Texas, the go-his-own-way candidate still in the presidential nomination race; and Hillary Clinton, current Secretary of State and future . . . well, we'll see, won't we?
Dropped from last year's list, with at least a part-time Washington home address, were Vice President Joe Biden; First Lady Michelle Obama; Major General Margaret Woodward; former DC public schools chancellor Michelle Rhee; CIA director General David Petraeus; and Republican representatives Paul Ryan of Wisconsin andMichele Bachmann of Minnesota, who dropped out of the GOP presidential race in January.
The only two people to make the list both years were President Obama and Secretary Clinton.
Wouldn't it be fun if those two competed on Jeopardy? Alas, they are not on that list. The individuals selected as the "power players" for the hit game show are basketball legend Kareem Abdul-Jabbar, CNBC host David Faber, comedian Lewis Black, New York Times columnist Thomas L. Friedman, CNN's Anderson Cooper, former White House press secretary Robert Gibbs, BBC correspondent Katty Kay, Lizzie O'Leary of CNN, Dana Perino of Fox News, television health show host Dr. Mehmet Oz, Chris Matthews of MSNBC, Chris Wallace of Fox News, Chuck Todd of NBC News, Clarence Page of the Chicago Tribune, and Kelly O'Donnell of NBC News.
The series of Jeopardy episodes taped in Washington will air the week of May 14. Click here to read our earlier interview with host Alex Trebek.
As for the lists of who will be at what party for the White House Correspondents' Association weekend–you know, the usual assortment of A-, B-, and C-list (but mostly B and C) celebs imported from elsewhere–do you really care? That's what we thought.