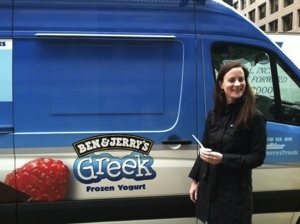 Yesterday found me riding shotgun in a bright blue Mercedes van outfitted with a bunch of freezers and a retractable awning. This attention-grabbing vehicle is a promotion for Ben & Jerry's new Greek frozen yogurt, and will be in town until May 11, dispensing small cartons of the stuff for free. Flavors that may be onboard: banana peanut butter (yum); raspberry fudge chunk (yogurty to the max; Greek yogurt people–you know who you are–will really like this one), strawberry shortcake (didn't try it), blueberry vanilla graham (didn't try it).
Here's what my experience aboard the marketing mobile taught me:
1) It's apparently not a good idea to toss small cartons of frozen yogurt out of a van window, yelling "Come 'n' get it!" to unsuspecting pedestrians. At least that's what my chaperone/chauffeur Michael told me when I suggested it, blue eyes bulging a little like this is common knowledge or something.
2) When there's free ice cream in play, people can get a little persnickety. Apologies to everyone who missed us at McPherson Square after I tweeted about it yesterday. I probably should have held off until we found a proper parking space. Please blame me, not anyone onboard the yogurt-mobile in an official capacity.
3) If you want yogurt, you should tweet these guys. Sometimes the van will park somewhere–outside the Foggy Bottom Metro, for instance, where, on its first day on the road, the truck provided sweet treats to a gaggle of GW students. But parking can be tricky in our fair city, and, to be honest with you, the crew doesn't possess the wizened street sense of Washington's fearless food truck fleet. (Sorry, Michael.) I was a little obsessed with the window that opens up on the side of the truck, and wanted nothing more than for Michael to park the van and stay put so I could stick my head out of it and harass passersby with offers of yogurt. (I would have welcomed a bullhorn. I let Michael know, but alas, there were allegedly no voice amplification devices onboard.) What the B&J mobile-marketing team really wants to do, however, is deliver yogurt to your office, or park–legally–outside your office and then call you down (using a phone, not a bullhorn) to get a sample. So I'm here to tell you, if you want yogurt, your best bet is to tweet them a lot. Like, a lot. Tweet them three, four, ten times today to tell them why they should drive to your office and ply your coworkers with fro-yo. Because they'll totally do it. They want to do it. Tweet them @BenJerrysTruck.