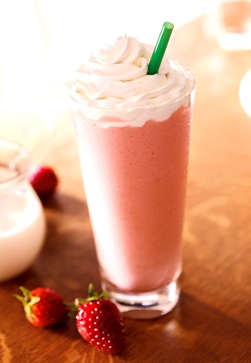 In case you missed the worldwide outrage over the news that Starbucks uses a bug extract as an ingredient in its food and drinks, we'll give you time to dramatically spit out your strawberries and crème frappuccino.
All better? Good. Because now you can rest easy.
After customers–mostly very angry vegetarians–found out that Starbucks uses dried, crushed cochineal beetles as part of its red dye in beverages and foods, more than 6,500 people signed a petition to have the company to switch the crushed-up bugs for, say, normal food dye?
Looks like customers' (completely reasonable) complaints were heard, as the coffee giant's president,
Cliff Burrows
, announced last week that Starbucks plans to get rid of the cochineal extract and replace it with a tomato-based extract. "As our customers you expect and deserve better–and we promise to do better," he said in a statement on the official
Starbucks blog
.
Currently, the ingredient is found in the strawberries and crème frappuccino and the strawberry-banana smoothie. It's also used in the raspberry swirl cake, the birthday cake pop, the mini donut with pink icing, and the red velvet whoopie pie.
But don't be too relieved–cochineal extract is used in tons of other foods, including gelatin desserts, juices, baked goods, alcoholic drinks–even some makeup products. While it's safe, the FDA requires that all foods and cosmetics containing cochineal list it on their ingredient labels.