Spring race season has sprung, which means our training runs
are about to get more frequent–maybe even a little repetitive.
It's the perfect time to add a little fun to your routine by
incorporating music, games, or intervals. If your runs are in
dire need of a pick-me-up, try these five apps that will leave
you yearning to hit the pavement each day.

Zombies, Run!
For runners who are über-competitive and love a good
heart-thumping game, Zombies, Run! is ideal. Your mission, should you
choose to accept it, is to rebuild your base camp by collecting
essential supplies and escaping the impending zombie attacks.
Warning: not intended for use by those lacking a sense of
humor. The ridiculous storylines will leave you smiling throughout
your entire run, even during the intense sprinting periods and
the shouted commands ("Jump! Run! Run faster!") to help you
"evade zombies."
Available for: iPhone, iPod Touch, and iPad (Android coming soon)
Price: $7.99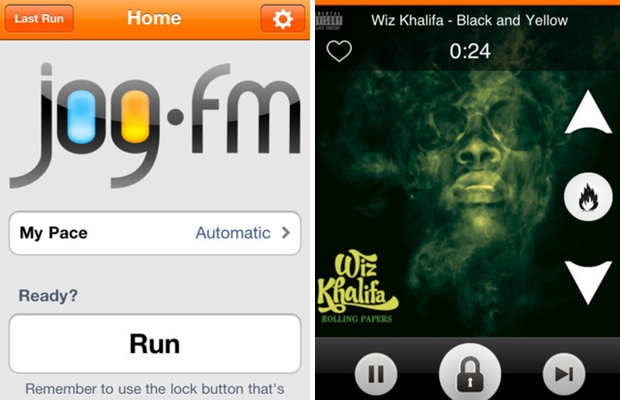 Jog.fm
How often do you ask fellow runners, "Do you know any great running songs?" Well, now you can take the guess work out of it with Jog.fm, which will suggest the best music for your average pace. Eminem's "Lose Yourself," for example, is optimal for speedsters averaging a 7:48 mile, while "Dog Days Are Over," from Florence and the Machine, is better suited to a ten-minute mile. You can choose to play music that matches your real-time pace, or you can ask the app to play only music set to your chosen pace. Users have also created themed playlists ("'80s and '90s Sweat" is our personal fave) that you can download.
Available for: iPhone, iPod Touch, and iPad (Android coming soon)
Price: $2.99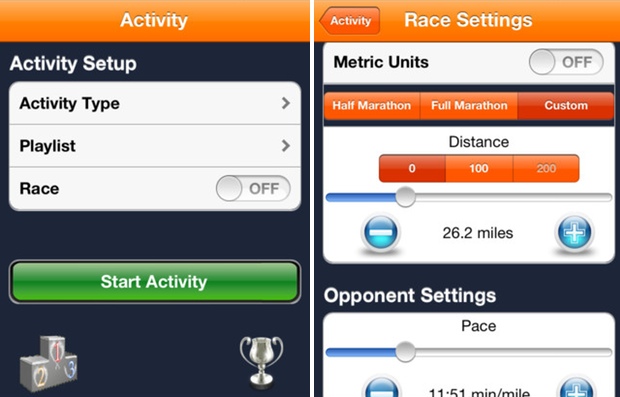 Ghost Race Pro
We all know how gratifying it is to score a personal record in a race, so why shouldn't we feel that same elation during practice runs? Ghost Race enables you to track past times on your run routes to compare your daily performances. If you keep the audio on, you'll receive real-time updates on how you're stacking up against your "ghost" of past runs.
Available for: iPhone, iPod Touch, and iPad
Price: $0.99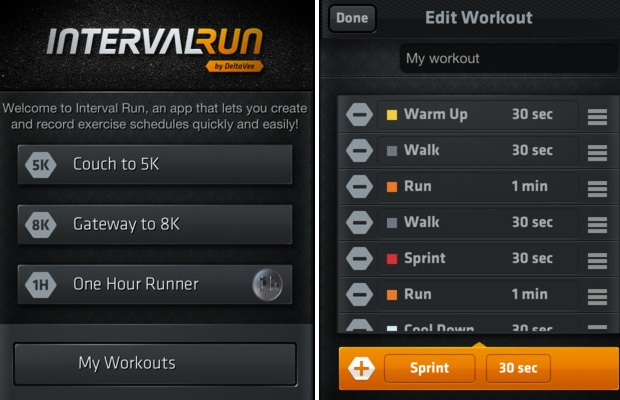 Interval Run
If you like variety in your runs, interval training is one of the best ways to mix it up and burn calories. But constantly having to check your time can be annoying. Enter the Interval Run app, designed to guide you with spoken feedback about when to speed up or slow down. The audio component eliminates the need to focus on a watch, freeing you to concentrate on breathing and pushing through those last excruciating ten seconds of sprint. And don't worry–you don't have to lose your music, as commands will be spoken at a louder volume, as long as you start the music before the app.
Available for: iPhone, iPod Touch, and iPad
Price: $1.99
Softrace Pro
One of the hardest aspects of training runs can be the
lack of a competitor to push you that extra mile. But this app aims
to change that by finding random opponents for you to compete
against. Choose to race other men, other women, a mixed group–even
yourself–and set your opponent's performance speed to slow,
medium, fast, or random. Your distance can range from 1 mile to
30, and the app will track your personal basics (time,
distance, speed, and pace) while comparing you to your chosen
competitor.
Available for: Android
Price: $3.99