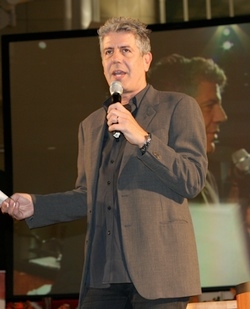 • Who'd a thunk? Restaurants with attractive, scantily clad waitresses are the "fastest growing-segment" of the restaurant industry. Restaurants featuring attractive, scantily clad female servers fastest-growing segment of overall US restaurant sector . . .
• The big food corporations are pushing the concept of "second breakfast," or "breakfast in stages"–insidiously exploiting the advice of many nutritionists and health experts to eat five smaller meals a day. 'Second Breakfast' Gains Toehold In America With Encouragement From Big Food
• Not that you care about London city politics, but this little item about Ken Livingstone, the Labor candidate, is pretty amusing. And typical. He accuses his opponent, Boris Johnson, a conservative, of having snobbish tastes–Johnson likes steak tartare–while he, Livingstone, a humble commoner, relishes a good "fry-up." Funny, too, that Livingstone, a former food critic, struggles to remember the term for chopped and seasoned raw beef. Boris is steak tartare, I'm more fry-up, says Ken Livingstone
Jessica Voelker, online dining editor

• "I wish I could say the same for one of the 'lions' of the food writing community–someone who (until this trip) I had always liked and looked up to. Over the course of a few days, he revealed himself to be the most vicious, abusive, misogynistic, back-biting piece of shit I have ever met in my life." Say what you will about Anthony Bourdain, the guy can tease a television show. RAW
• Once I thought I saw Lewis Black at the Gallery Place Metro station and I was so star-struck I missed my train. (It wasn't him.) So it was with unbridled delight that I watched him sink his teeth into foodie preciousness. "Snapper, tilapia, who gives a shit? That's what's the ketchup for." Watch Lewis Black Slam the 'Artisanal' Food Trend
• Score one for red sauce. Last night the American Society of Magazine Editors held their annual awards gala. Among the winners: Saveur, for this special feature on Italian America. Special Feature: Italian America
• The Onion A/V Club recaps the second episode of HBO's new Julia Louis-Dreyfus vehicle Veep. Critical commentary tends to center on the show's portrayal of vice presidential powerlessness–and, generally, the noxious power games that Beltway insiders play–but what I found particularly poignant in this episode was the disrespect suffered by DC's hardworking online food media. Veep: Frozen Yoghurt
Sophie Gilbert, associate arts editor
• "Every day I have my house manager, Hershey–who I stole from the Mercer Hotel with André Balazs's blessing–wake me up with a hot washcloth for my face, a leg rub, and a plate of toast soldiers. Then someone always gets chicken pot pie and potato salad from D.D., you know, Dean & Deluca. If I can't afford D.D., I just don't eat." This is the awesomeness that comes from Courtney Love's NYMag food diary. She also likes to eat cake (of course she does). And sugar from 4 to 5 AM. Courtney Love Is Hooked on Chicken Potpie and Pineapple Upside-Down Cake
• Thank you, Tom Scocca, for peeling off the web of lies and deceit that pervades most contemporary cookbooks. At least, as far as browning onions is concerned. Layers of Deceit
• Is anyone out there "new to the hot sauce world," NPR? I mean, I'm from England, where it doesn't even exist, and I'm still a slavish devotee to Frank's and Crystal. How To Tiptoe Into The Hot Sauce Craze
Anna Spiegel, assistant food and wine editor
• Dining world drama is oh so good, so why can't we have a little more of it in Washington? Content yourself with this for now: The 15 Most Gloriously Dramatic Fights Between Restaurant Owners and Critics
• With the season's first Chesapeake soft-shell crabs popping up on menus, it's time to get to the seafood market and start cooking your own. Thank you, Sean Brock: Lowcountry Soft-Shell Crab.
• Alright, so this isn't technically food-related, but it has the word "tequila" in it. And you should read it. Happy Friday: Airplane Passengers as Explained by their Pants.