Howard University alumna Toni Morrison's slim, subtle new novel, Home, centers on Frank Money, a black Korean War vet who finds himself a second-class citizen in the pre-civil-rights America for which he fought and watched his best friends die. A "barefoot escapee from the nuthouse" when we meet him, Frank has spent the last two days "bound and sedated" for reasons he can't recall. But while he may not know where he's been, Frank knows where he's going. Having received a cryptic, distressing letter about his beloved sister, Cee–whom he calls "his original caring-for, a selflessness without gain or emotional profit"–Frank must brave a cross-country odyssey from the Pacific Northwest to Georgia to save her.
Some of Home's most poignant moments arrive through its peculiar structure. Alternating chapters are written retrospectively in Frank's voice, while intervening sections shift perspective among the novel's cast. For example, Frank sees his girlfriend, Lily, as his only respite from the posttraumatic stress of war. "Only with Lily did the pictures fade," Morrison writes. But later, through Lily's eyes, we learn that life with Frank was less valuable to her than a purseful of coins.
At a September luncheon in DC hosted by the Hay-Adams Author Series, Morrison–born in 1931–called the 1950s "my time," and she draws the era' s particular brand of racism with an authentic, knowing hand. But Home is ultimately a testament to personal fortitude and dignity. "Nothing and nobody is obliged to save you," Morrison writes, "but you."
This article appears in the May 2012 issue of The Washingtonian.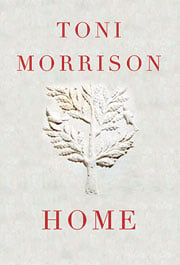 Author:
Toni Morrison
Publisher:
Knopf
Price:
$24