People just can't get enough of the minimalist shoe craze these days. We're not talking about the controversial barefoot running shoes–the verdict is still out on whether or not they're the best fit for everyone. No, we're referring to those in-your-face, neon-colored running shoes that boast comfort and barely-there heels.
We spoke with Brandon Balthrop of Georgetown Running Company, who broke down the features of the four newest minimalist shoes to hit the market this spring. But remember, it's always a good idea to head to a running store and get your running form and feet analyzed by an expert; they can tell you if a minimalist shoe is a good fit for your type of feet. And don't forget to consult our how-to guide on easing into minimalist running first.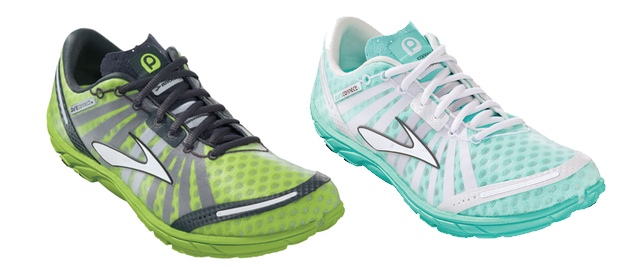 Brooks Pure Project, $90 to $120
"The whole idea behind the Pure Project line is feel," Balthrop explains. "Essentially what you're getting is a more responsive shoe. You'll be able to feel the road more." These shoes have an inverted, four-millimeter heel, which encourages a mid-foot strike and promotes a natural stride that pushes you forward. Take your pick from a racer, neutral trainer, or stability trainer shoe.

New Balance Minimus, $100
"These are your completely minimalist shoes," says Balthrop of the newest version of the Minimus. There is a zero-millimeter drop from the heel to toe, and it's "incredibly lightweight." The top of the shoe is mesh for increased breathability. New Balance assessed the areas that got the most wear in the first version and reinforced them. "The new one is definitely superior than the original," Balthrop says.
Newton's Light Weight Performance Trainers, $175
These shoes aren't exactly minimalist– "you're not lacking the cushioning"–but they're still lightweight, Balthrop says. They're ideal for multisport athletes since the technology promotes a naturally efficient style of running. The front of the shoe features lugs, which protrude from the forefoot and encourage a mid-foot strike, rolling you forward to continue momentum, Balthrop explains. This mechanism is popular for triathletes, whose running form usually breaks down after the swim and bike portions of a race. As a bonus, this technology allows the shoe to last about 1,000 miles, versus a typical running shoe, which gets 300 to 400 miles.

Nike Frees, $100
People can't get enough of Nike's new line of minimalist shoes, and it seems like a new version comes out every month. That means you can take your pick, depending on the amount of cushioning you prefer. If you order from the website you can mix and match colors, too. Georgetown Running Company carries versions 5.0, 4.0, and 3.0, the last of which has the lowest amount of cushioning. "They all have a glove-like fit and are very flexible," Balthrop says.
Related articles: