It's been five days since my introduction to CrossFit, and I'm happy to report I've regained use of all my limbs and no longer wince in pain with every step I take up the Metro escalator.
The crazy part? The workout that left me feeling sore for days after lasted less than ten minutes.
Like many other fitness enthusiasts, I'd heard a lot about CrossFit, the fitness and strengthening program that focuses on, in founder Greg Glassman's words, "constantly varied, high-intensity, functional movement." CrossFit has experienced a surge of popularity since Glassman founded the first affiliate in 2001 in Santa Cruz, California. The program now has approximately 3,400 affiliates nationwide and abroad, including 40 in the Washington metro area.
In the days leading up to my introductory class at Balance Gym in Thomas Circle, I did my research. Should I expect an all-out workout for the entire hour? No. Will we start off pushing huge tires down a runway as shown in Crossfit's Reebok-sponsored advertisements? Definitely not. It sounded simple enough–but one viewing of this "What Is CrossFit?" video on YouTube still had me scared out of my wits.
My fears weren't appeased on Thursday when I arrived early and witnessed the last few minutes of an actual CrossFit class. I stared wide-eyed as people of every age performed a series of burpees, box jumps, and pullups at warp-like speed. By the end of the workout, everyone was high-fiving one another and clapping–an older man even stayed late to work on his double jump rope.
Seriously, what are these CrossFitters on?
"When it's done right, there are two things that hook people right away," Tom Brose explained to me a day after my workout. Brose started the first CrossFit affiliate in DC in 2005. "There's the kind of physiological endorphin rush at the end when you're like, 'Oh my God, what just happened to me?'"
Then there's the community feel of Crossfit. "I'm a big believer in the original concept of exercising in a community setting," Brose says. "If you come in and do a workout with us, you're going to have seven people who know your name at the end of the class and are cheering for you."
CrossFit programs typically encourage newcomers to go through a Foundations course, during which individuals are introduced to the basics of CrossFit. At the Thomas Circle Balance Gym, for example, people can sign up for a three-week course. Once completed, they can join group classes; Danielle Dionne, CrossFit director at Balance Gym in Thomas Circle, recommends three per week.
But first I had to make it through the intro class. I knew I was in trouble when Dionne asked me and two other newcomers, "So, who knows what a burpee is?"
We started off with four 20-second intervals of burpees, and moved on to learning how to do a proper air squat and pushup. I'm no stranger to these exercises, but as we performed each one individually, the three of us learned we all have some work to do on form and technique.
By the time we finished the introduction, I'd performed 55 squats, a little more than 30 burpees, and a bunch of pushups (I admittedly lost count at some point, though counting reps is a necessity with these workouts).
We had just 15 minutes left for the actual workout, where we incorporated all of the exercises we just learned. That's typically how CrossFit classes work: Most of the hour is dedicated to learning technique, while the workout only lasts 15 to 20 minutes.
"This is hard, guys, I'm not gonna lie," Dionne warned us, gesturing to the workout she'd drawn in chalk on the floor:
25 squats, 5 pushups, sprint
20 squats, 5 pushups, sprint
15 squats, 5 pushups, sprint
10 squats, 5 pushups, sprint
5 squats, 5 pushups, sprint
It may look easy on paper, but doing this in under 15 minutes–we did it in under 10–was anything but. Rest periods don't exist in CrossFit; it's all about getting in as many reps as possible in the short time allotted.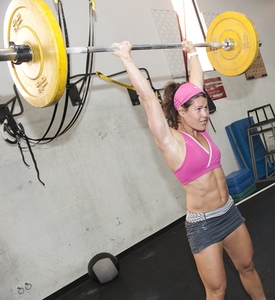 After our workout, Dionne told us everyone should listen to his or her own body. "If you come to me and say, 'Oh my God, I couldn't move for four days,' then we probably overdid it with reps. I'll lower your reps from 75 squats to 50, all in the same time frame."
It's easy for newcomers to think CrossFit is only for competitive athletes–one viewing of the CrossFit Games, in which men and women compete to the last burpee or pullup to be named the fittest person on earth, can explain that perception. And both Brose and Dionne don't deny that plenty of CrossFitters have that ultra-competitive edge.
"With some affiliates, the element of intensity can be misinterpreted by some people," Dionne says. "It's really up to the coaches. They need to be really careful with those people and understand that it's a milestone for some people to just get to the gym."
But for the most part, she says, those who get hooked on CrossFit, like her own mom, aren't looking to become the fittest person on earth. Instead, they're looking for that extra push to stay healthy and in shape, while making new friends in the process.
"Most of my friends are CrossFitters now," explains Dionne, who was a former horse trainer, rugby player, and swimmer, before becoming a full-time CrossFit coach. "When you surround yourself with similar-minded people, you're going to adopt similar habits. You're going to be exposed to a community, like anyone would with a sports team."
My body might have hated me in the days after the workout, but I can see why CrossFit works, especially for people who need that extra push. The gym setup and exercises may be extremely minimal, but by the end of that short spurt, I felt like a total badass. The ten minutes was all I needed to realize I need to push myself harder during my own workouts.
"I don't think most people come in with the perception that they're going to change big-time," Brose says. "With CrossFit, if you can say, 'I'm going to take the leap to do this. I'm going to be sore and tired. I'm going to change and meet people,' then you're going to love this."
Think you have what it takes? CrossFit affiliates offer free one-hour introductory classes. Visit the official CrossFit website to find a location near you.