There's nothing more annoying than having your workout ruined by an ill-fitting sports bra. Women may think of a good sports bra as an afterthought, but the truth is that failing to have proper support during exercise can cause a lot of pain, says Fiona Lipshaw of Brayola, an interactive website that helps women find the perfect bra.
"What many women don't realize is that every time their breasts move, the ligaments inside the breast break down, causing the breast to sag over time," she says. Other common problems with wearing the wrong-sized sports bra include back and shoulder pain, chafing, and soreness.
Read on for the Brayola team's favorite sports bra picks for various sizes.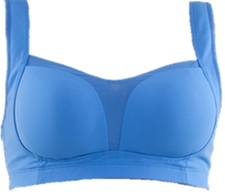 Lululemon's Ta Ta Tamer II, $58
It's beloved among the Brayola team, Lipshaw says. "It's a compression sports bra so [. . .] it reduces bounce by 83 percent." An elastic underband provides even more support, and wearers can crisscross the straps or remove the cups.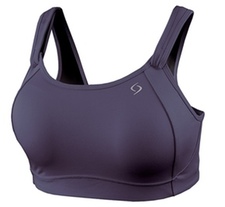 Fiona Maximum Control Wire-Free Sports Bra, $46
The Brayola team's absolutely favorite is the Fiona maximum-control bra. The interior molded cups encapsulate breasts for support and reduce any bounce. "What's also special about this bra are the reinforced side panels for extra support for the fuller woman," Lipshaw says.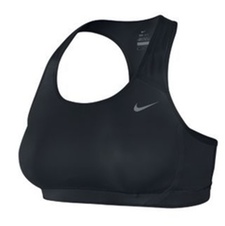 Nike Dri-Fit High Impact Shape Wire-Free Sports Bra, $42
Lipshaw recommends this for women who wear sizes A to C. It's high compression, which means it keeps the breasts close to the chest. Lipshaw says small-chested women are lucky since most sports bras built for them are suitable for all types of exercise, whether it's running, dancing, or yoga.
Also try: Champion's Seamless Racerback Sports Bra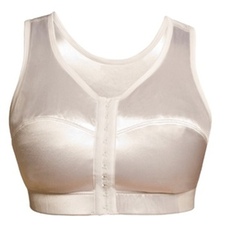 Enell Sports Bra, $66
This bra goes up to 52 DD, and is one of the best choices for women who think they have to wear two sports bras during exercise, Lipshaw says. For heavy-chested women, "the type of sports bra to look out for is one that encapsulates and compresses you. I would advise women to look for a bra that has thick straps, which will help distribute the weight of each breast, as well as reduce strain and shoulder fatigue."
Also try: Shock Absorber Infinity Bra
Related articles: